It is definitely no secret that our home is FILLED with all things blue. From indigo and cobalt blue area rugs and upholstered furniture to aqua and seafoam blue lamps and pillows, every room is packed with blue home decor! So, here are my personal blue decorating ideas and tips: 14 Ways to Decorate with Blue: For Every Room & Budget.
BONUS: ONE ADDED AT END OF THE POST
***NOTE***This post contains affiliate links which means I will receive a small compensation if you purchase something from these links. Please see my privacy and disclosure policies below. Thanks for your support! 🙂
---
14 Ways to Decorate With Blue: For Every Room & Budget
QUESTIONS ANSWERED
One of the most difficult decisions when decorating is how to use color. So today we're going to cover how to do that using blue, and will answer the main questions:
How can I add color to my house? and How do you add pops of color to a room?
We will also cover:
Where can I add blue to my house? Every room.
You can add blue to living rooms, kitchens, powder baths, dining rooms, offices, laundry rooms, hallways, master bathroom and bedrooms, and even outdoors!!
What color goes with (indigo) blue? Every color.
As you scroll through the pictures, you'll see a variety of blue color schemes: blue mixed with yellows, oranges, blush pinks, emerald greens, turquoise, & even metallic colors (like gold, silver, or copper).
How many accent colors should be in a room? Typically 3 colors.
There's the 60-30-10 rule that's been around forever, but what does this actually mean?
*** In our house basically the dominant color is blue (navy) 60%, with secondary color (white) 30%, and then each accent color (yellow, orange, blush, green, turquoise) 10%. ***
Just don't get to caught up into these ratios. It's your house, so add color that makes YOU smile.
Ok – let's get to the good stuff!
---
14 Ways to Decorate With Blue: For Every Room & Budget
WITHOUT PAINT:
Table Linens – table runners, napkins, & placemats
Window Treatments, Bath, & Bedding – curtains, shower curtains, & bedding
Chair Cushions – indoor and outdoor dining, & chaise lounge
Throw Blankets & Throw Pillows
Walls – ladder, art work, ribbon, wallpaper, seasonal decor
Lighting – lamp, lamp shades & light pendants
Upholstered Furniture – ottomans, benches, blue couch slipcovers, & accent chairs
Dinnerware – plates, bowls, & mugs
Accessories & Miscellaneous – vases & shelf paper
Floor – rugs, wood tile, dog beds, & poufs
WITH PAINT:
Walls – accent wall, entire room, & back of bookshelves
Cabinets – kitchen cabinets or bathroom vanities
Furniture – end table, coffee & console table
Accessories – mirrors, picture frames, & flower pots
***If you would like more information on a particular picture, just click on the picture or link (source) under each picture to take you to the post.***
---
14 WAYS TO DECORATE WITH BLUE
#1 TABLE LINENS
Using table linens is one of the easiest and budget-friendly ways to add blue to your home.
Try adding some fun blue and white patterned napkins and placemats to your dining room or kitchen table for every day use. Or use them for holiday and seasonal entertaining – with an accent color.
And add a fun table runner to dining tables, a buffet, or even an entry console table.
Use a patterned blue and white ikat runner for a bohemian chic look, or a navy and white buffalo check table runner for a modern farmhouse look.
Want to to change things up?
Just turn your table runner from horizontal to vertical – it will completely changes the focus of attention.
---
#2 WINDOW TREATMENTS, BATH, & BEDDING
Using blue and white curtains, roman shades, or valances is a great way to add color to bare windows in neutral color living spaces.
Afraid to commit to living room or bedroom curtains? Start out small with adding blue to a bathroom.
Try a bold, large print cobalt blue shower curtain to a guest or kids bathroom to add a little fun.
And don't forget about bath or hand towels. Add solid, patterned, or striped blue towels to bring in some color also.
***TIP*** You can use curtains and shower curtains as table runners or table covers also – click here to find out how.
You just can't go wrong with blue and white bedding. It's a classic color combination that you'll be able to use forever – really!!
Find a reversible comforter if you like to change things up often.
Mine reverses to blue and white pin stripes, and I love having the extra decorating option.
---
#3 CHAIR CUSHIONS
Adding chair cushions is another easy and economical way to add blue to your indoor and outdoor living spaces.
Use them on indoor dining chairs to add a punch of color and soften hard edges in your kitchen breakfast nook.
Or add them to outdoor dining chairs, chaise lounge chairs, and counter stools to provide extra comfort for outdoor entertaining.
---
#4 THROW BLANKETS & THROW PILLOWS
Using throw blankets and throw pillows is probably the most fun way to add blue decor to your home, but is no longer limited to just your living room.
Toss a couple of throw blankets onto your couch, tuck them a storage basket in an entry console, or drape them across your bed to add some blue to your home.
Use solid blue or navy blankets for a bigger "pop" of color, or use blankets with patterns for a smaller punch of color.
Use navy blue or cobalt blue throw pillows on an entry bench, dining room chairs, kitchen banquette area, bed, storage bin, and of course your couch and club chairs.
Don't forget about your outdoor patio as well. Using throw pillows is another great way to add blue, and connect your indoor and outdoor color palettes together.
---
#5 WALLS
Using ladders is a fun coastal farmhouse way to add a punch of blue to your walls, without doing any permanent damage. Plus, you can move it to any room in your house.
This little gem kind of ties in with #3 – throw blankets, but can also be used to store magazines, family photos, and extra bath towels as well.
Find a pair of framed navy and white geometric prints or hang a wreath with blue and white ribbon.
Just a small "pop" of color goes a long way.
Wallpaper is another way to add a punch of blue to your walls. Use it on an accent wall, half-wall with wainscoting, or even add it to the back of a bookshelf.
This is definitely on my to do list!! Here's a little preview of my wallpaper inspiration – dream room. What do ya think?
Holiday navy and white wall accents are another option when adding blue to your wall decor.
Try these diy buffalo check ornaments or diy embroidery hoops snowman for Christmas decorating this year.
---
14 WAYS TO DECORATE WITH BLUE
#6 LIGHTING
Using blue lamps is one of my personal favorite ways to add color to my house, even though mine are more aqua and turquoise blue.
They still blend in perfectly with my monochromatic blue color palette, and add a touch of coastal style as well.
And don't forget about navy or blue lampshades for a little pop of color.
Use patterned lamp shades for added drama, or solid lamp shades to keep your look classic.
Here is our dining room before we flooded. Still love (and have) that indigo blue lamp shade – adds a touch of shabby chic style to the room.
If I had to choose just one blue light pendant that made my heart pitter-patter, this little beauty would be it! I love how playful it is, but yet so simplistic – all at the same time!
It's like coastal boho meets vintage chic.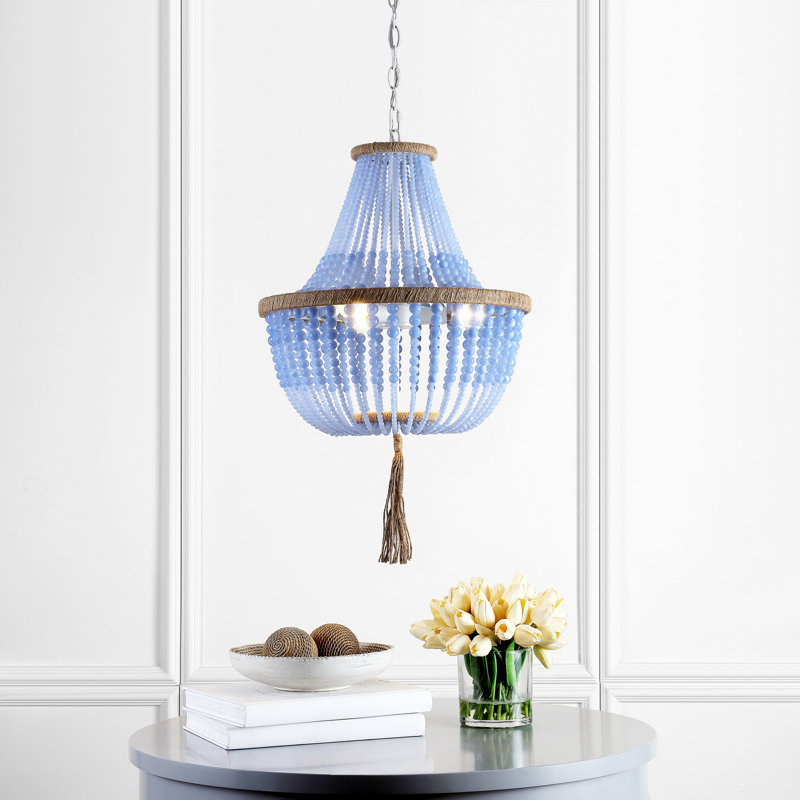 ---
#7 UPHOLSTERED FURNITURE
Who can resist adding some upholstered items to your home, showcasing your unique personality?
Whether it be blue and white boho ottomans, a coastal blue and white entry bench, a solid denim blue sofa slipcover, or a navy and white buffalo check accent chair…… their is something fun for everyone!!
And like the coastal farmhouse ladder, the ottomans and benches can be moved from room to room when needed.
Sometimes, all you need is blue and white with just a mixture of patterns and textures!!
And don't forget about using a blue sofa, a pair of club or accent chairs, and even blue slipcovers.
This denim slipcover has been in our girls' playroom for 8+ years – and it still looks good.
If I could find a spot for this little cutie – I would get it asap. There is just something about a navy blue buffalo check chair that makes me so happy!
Click here for more farmhouse inspiration – with this accent chair.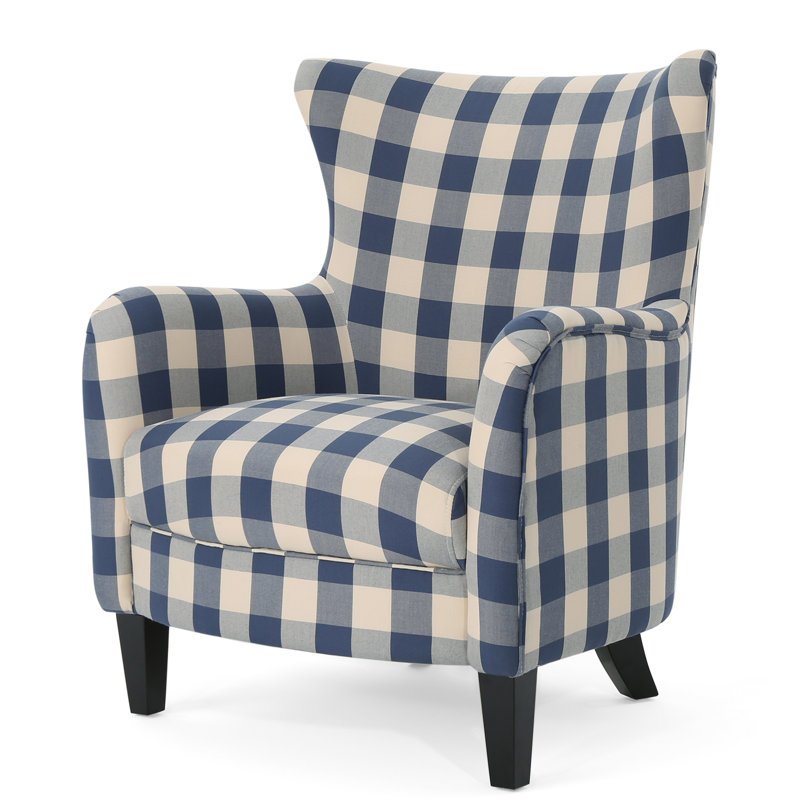 ---
#8 DINNERWARE
Using blue, or blue and white dinnerware is another way to bring in your favorite hue. Just like the table linens, you can use these dishes every day also.
Choose more casual, playful patterns for a mix-n-match style or choose gold rimmed china for a more traditional elegant style.
Set the blue dishes up with your blue and white table linens for a cohesive look, when planning a family gathering.
And don't forget about a little coffee bar or coffee station for your friends!
Using blue and white polka dot coffee mugs just scream good times and tons of laughter for your girlfriends!
---
#9 ACCESSORIES & MISCELLANEOUS
Besides throw pillows, adding home decor accessories is the easiest (and cheapest) way to add blue to your home.
My personal favorite way to accent with any color, is by using vases.
You can choose a large coastal style blue and white striped vase, or a traditional chinoiserie style vase for big impact.
You have probably noticed these other two throughout this post – love them!! The rope just adds the perfect coastal touch.
This last one, that I'll call miscellaneous, is really the easiest way to splash blue everywhere!! It is a little time consuming, but oh-so-worth-it!
What is this little secret gem – it's shelf paper! I found this cute shelf liner at Target, and have it in all of my cabinets.
Even my honey likes it, so I knew it was a winner!
---
#10 FLOOR
Don't forget about floor accents. Use pops of blue on the floor through different styles of rugs, wood tile, dog beds or poufs.
Basically, this applies to any blue accent that draws the eye down (toward the ground level).
Rugs are the best way to decorate with blue, but can get expensive. Check out this post for budget-friendly navy blue and white area rugs.
Personally I have a little crush with blue and white rugs, and love that each rug has it's own "style."
Go with a navy blue and white boho shag rug in the living for added texture and warmth, and use an indigo-dyed blue patterned rug for the dining room to add interest.
A little on the pricier side, but just have to mention it, is distressed blue wood tile (flooring).
This fun wood tile is perfect for the laundry room where you need a little "color" sunshine to brighten your day. Anything helps – right?? LOL 🙂
My husband actually chose this flooring – what do you think?
And don't forget about navy blue dog beds or striped blue ottomans/poufs.
Both of these probably don't come to mind when you think of decorating, but they add just the right pop
of color.
If I had to choose a blue pouf, this would be my first pick! It's a little coastal boho chic style, and would go perfect in my living room.
---
14 WAYS TO DECORATE WITH BLUE
(WITH PAINT)
#11 PAINTED WALLS
The most popular way to add blue to your home is of course with painted walls. You can try a navy accent wall in the dining room, master bedroom, or even your living room.
Or paint an entire room blue. This would work great where you have a lot of white cabinets to contrast against the blue – like an office (pictured) or laundry room.
Afraid to commit? Try painting the back wall of a bookshelf for a little pop of color.
---
#12 CABINETS
If you are a little more daring, try painting your kitchen cabinets, kitchen island, or bathroom vanities blue.
Here is my master bath vanity painted SW Naval. I have to admit that I still love the color, and it adds such depth to all of the white tile and quartz.
---
#13 FURNITURE
For those of you who are not quite as fearless – LOL – try painting a piece of furniture blue.
Start with a small piece first, like an end table, and then move on to a coffee table, or even a console table.
Here is our entry console table, painted a smoky blue. Click here for tutorial.
---
#14 ACCESSORIES
And for those of you who are completely timid – try painting some accessories blue. I recommend beginning with candle sticks or picture frames, and moving on to flower pots and mirrors.
Here are my painted flower pots – click here for the tutorial.
And then there's my crazy turquoise blue chinoiserie mirror. This one is still with me from my painted furniture boutique days…..and I still love it!!
I hope you found some inspiration, and will be encouraged to add some blue to your home. If you have a favorite, let me know what it is.
I'd love to hear from you!
BONUS: One more way to decorate with blue – click Adding Removable Wallpaper To Stair Risers: Under $35.
Have a Great Weekend!
Love & Hugs 🙂
Some of the Posts Used in this Article:
Christmas Dining Room: Navy + Red
9 Holiday Table Decorating Tricks: Using What You Have
Home Tour: Coastal Farmhouse Master Bedroom
9 Affordable Ways to Update Your Outdoor Living Space
Fall to Christmas Decorating: 3 Easy Tips
How to Plan Your Kitchen Remodel: Tips & Ideas
10 Ways to Add Color to Your Entry
Hurricane Harvey Flooded: House Makeover (Part)
Adding A Shiplap Feature Wall to Living Room
44 Adorable Wallpaper Ideas (Part 2)
DIY Buffalo Check Embroidery Hoop Ornaments
Master Bed Frame Makeover: Painted White
My Easter Tablescape: Blue + Yellow