I am definitely still crushin' on all things navy blue and white, and if you're reading this post – you probably are too! I love it so much that I've decided to add a second navy and white rug to our house – now one for our living room. And since I have been searching and shopping like a mad woman, I thought it would be fun to share all of my great "finds" with you. So, here are the 12 Best Navy and White Area Rugs: Under $200.
*** Just a FYI – even though I've called these rugs navy blue and white, they also are: blue and gray, blue and ivory, cream and navy, cobalt and white, slate gray, dark blue and tan, etc… Just wanted to clarify. To see closeups of the rugs (for true colors), simply click the links or pictures. ***
***NOTE*** This post contains affiliate marketing which means that I will receive a small compensation if you purchase something from these links. Please read my privacy and disclosure policies below. Thanks for your support. 🙂
*Updated June 2020
---
12 BEST NAVY AND WHITE AREA RUGS: UNDER $200
Since I already have a blue and white rug in our dining room, I knew that it's a classic color scheme that I could use for a long time period. Sidebar: I've had this rug (pictured below) for about 7-8 years!!
This rug gets rotated between the living room and dining room quite often, and it basically acts as a neutral grounding for all of my pops of color and decorations.
The problem is ….. I really love this rug in this room!!
So, I just felt like it was time for the living room to have it's own identity. LOL!! Plus, who doesn't want a beautiful blue and white (or navy and white) area rug to set the tone and style of your living room?
Here is the 8′ x 10′ navy and ivory wool rug in our summer dining room.
And here is a picture of the rug in our fall dining room 2018. Click setting a fall table or fall home tour to see more fall posts from last year.
The rug works great with all of my accent colors (for all seasons), and adds a little interest to our neutral gray and white furniture.
So, here are some before and after pictures of our living room – just so you cam see what I'm working with.
BEFORE LIVING ROOM:
Here is our spring/summer living room with the aqua rug. I still really like this rug also, I just needed to have a more neutral background for the upcoming seasons.
If you want to see more pictures, click opening up kitchen wall to living room.
AFTER LIVING ROOM WITH NEW RUG:
I love it!! And can't wait to start playing around with other accent colors – especially for fall and Christmas time. Of course our dog, Boomer has to be involved in all of the shots 😉
*If you want to see more pictures of our new rug (or shop our rug), scroll to the very end of the post.*
Love this look, try 3 Key Elements: Coastal Cottage Living Room or How To Hang Curtains: IKEA Tips & Tricks.
Love white lamps? Try 14 Best White Table Lamps or DIY Ceramic Lamp Makeover: Painted White.
OK – let's get to the real reason you're here!! Navy Blue Rug Shopping!!
---
12 BEST NAVY AND WHITE AREA RUGS: UNDER $200
HELPFUL RUG MEASUREMENTS AND FURNITURE LAYOUT IDEAS
Here are a couple of helpful tips for possible furniture placement ideas, and rug measurements information. Remember that these are just useful guidelines….it's your house, so choose what you love best!!
Living Room:
Dining Room:
Bedroom:
---
12 BEST NAVY AND WHITE AREA RUGS: UNDER $200
The rugs listed below are the ones that I was looking into before I found my little gem!
Here are the styles, budget and rug sizes information that went into my rug shopping,
Why did I choose these styles? These were the rug styles that I was looking into, for our living room. Of course they can fit into dining rooms, bedrooms, or even kitchen breakfast areas also.
STYLES:
VINTAGE- TRADITIONAL (5)
GLOBAL -MOROCCAN – BOHEMIAN (7)
BUDGET:
Why did I choose (under) $200 for my limit on the rugs? Well basically, $200 was my own personal budget was for our living room rug.
And since that's the max amount I was looking to spend when searching online and in stores, that's how the rugs listed came to be.
SIZES:
The rugs I chose are either 5′ x 8′, 6 ' x 9', 8′ x 10′, or 9′ x 12′. Most of the rugs are available in multiple sizes/shapes also, just in case you need a different option for your room.
They also are available in runners as well if you're looking for hallways or in the kitchen.
---
12 BEST NAVY AND WHITE AREA RUGS: UNDER $200
VINTAGE-TRADITIONAL
NO. 1 SAFAVIEH MADISON (8'x10′) – $137.20

***NOTE***Even though it looks like rug NO. 1 and rug NO. 2 are the same color of blue…… the Madison rug is more navy, and the Hillsby rug is more royal blue.
NO. 2 HILLSBY RUG (8'x10′) – $166.99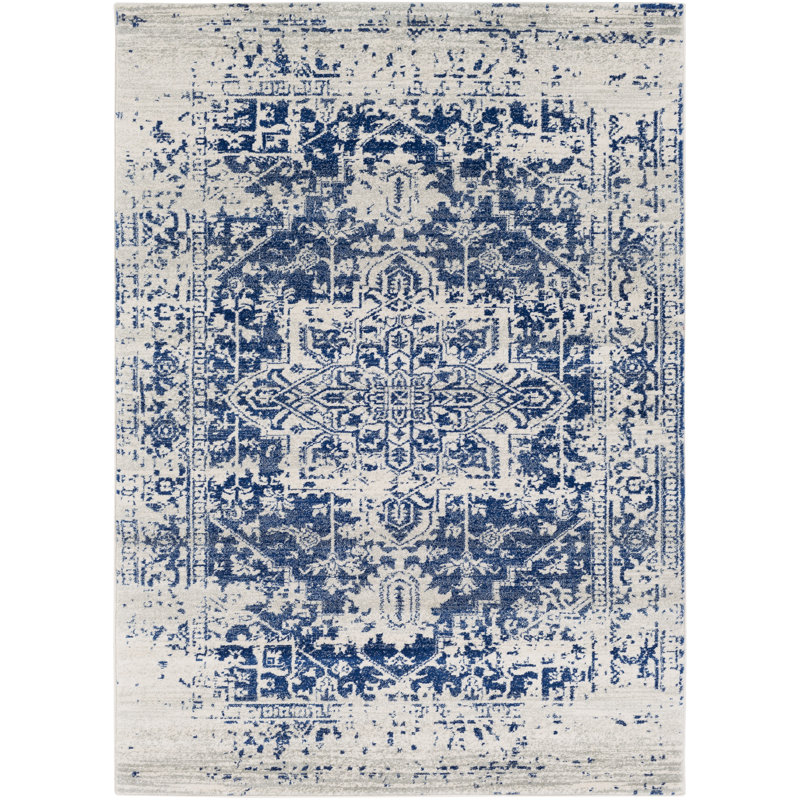 NO. 3 SAFAVIEH EVOKE RUG (8'X10′) – $180.33 (other colors available)
NO. 4 OROURKE RUG (8'x10′) – $209.99
(*price went up, so I am still shopping for a better price)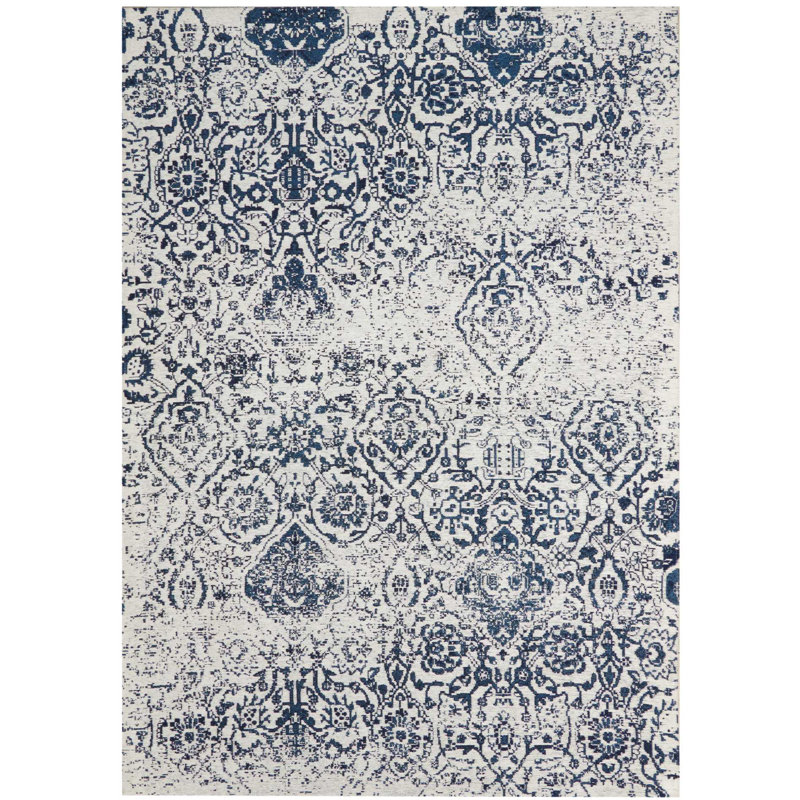 NO. 5 ARTISTIC WEAVERS BLUE RUG (8'x10′) – $139.99
---
GLOBAL-MOROCCAN-BOHEMIAN
NO. 6 BONNIE NAVY RUG (8'x10′) – $152.00 (more colors & sizes available)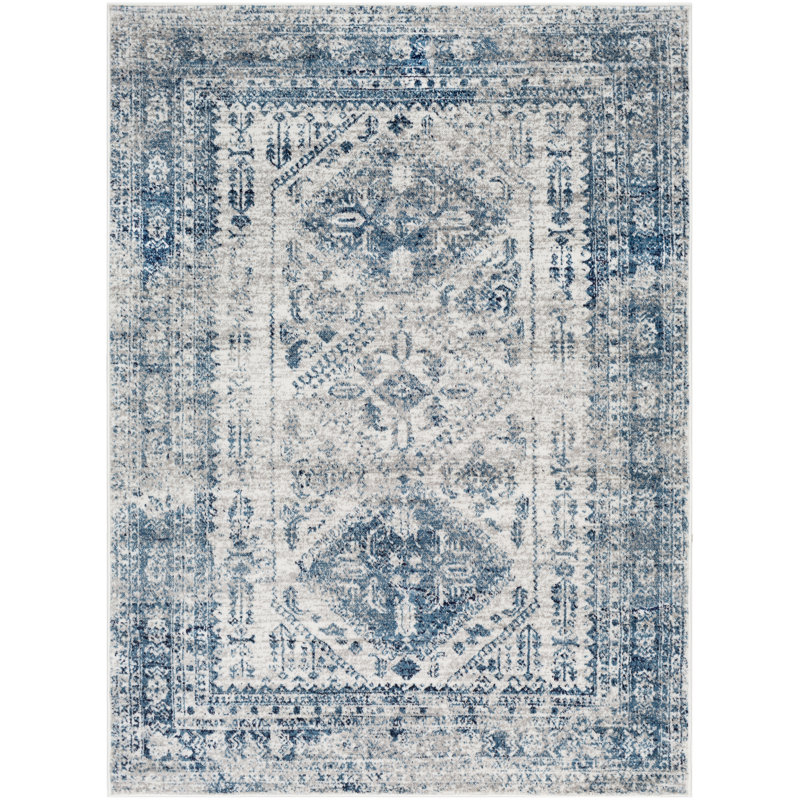 NO.7 SAFAVIEH HUDSON OGEE RUG (6'x9′) – $135.89 (more colors & sizes available)
NO. 8 SAFAVIEH HUDSON DIAMOND RUG (6'X9′) – $163.45 (more colors & sizes available)
NO. 9 BUNGALOW ROSE TUFTED RUG (5'X8′) – $174.99 (more colors available)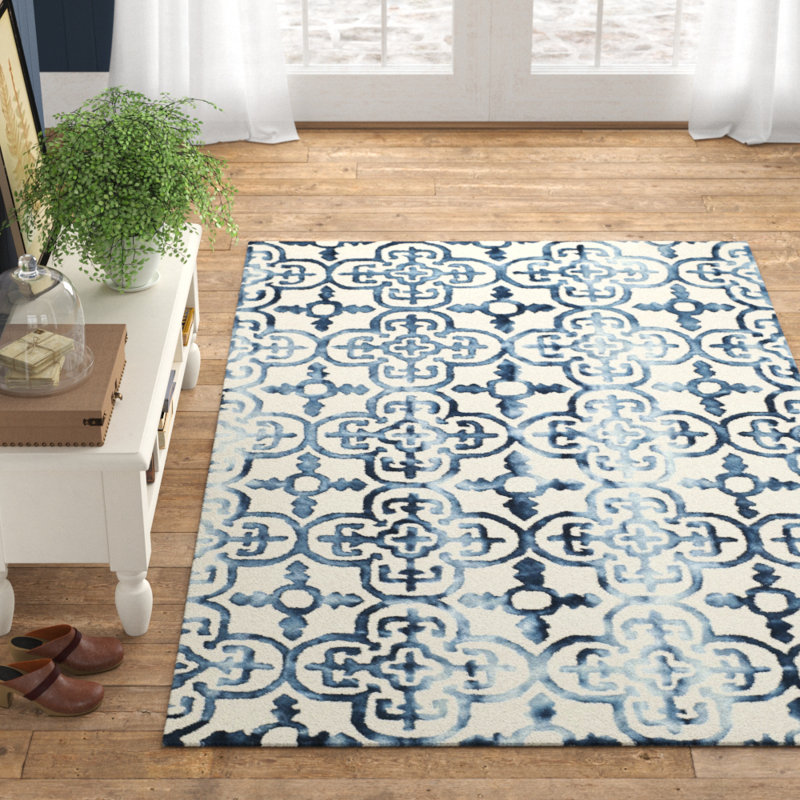 NO. 10 MISTANA COEN RUG (8'X10′) – $196.99 (more colors available)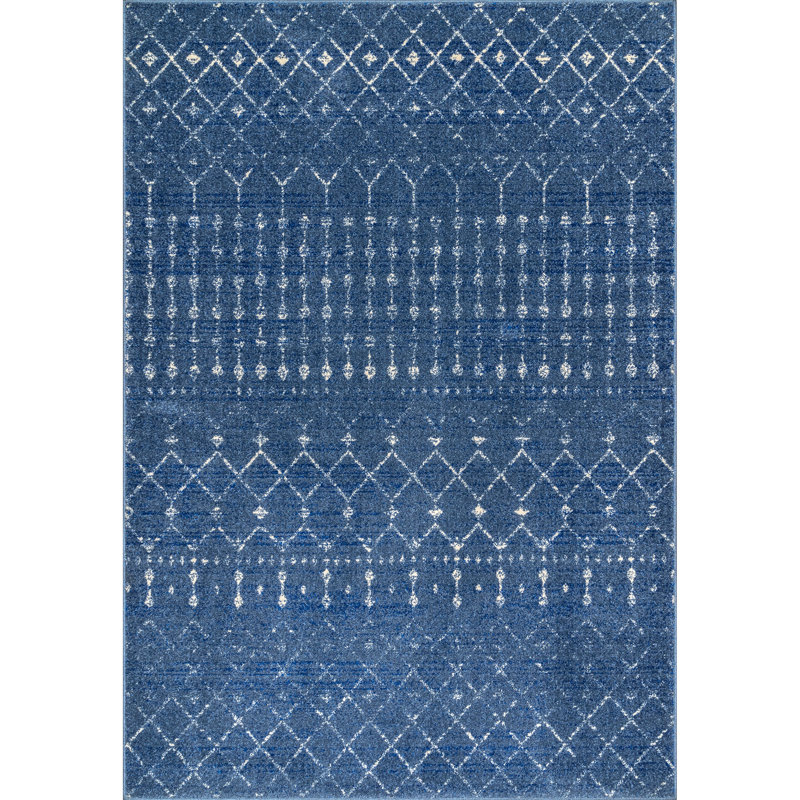 NO.11 NULOOM TRIBAL RUG (7'X9′) – $177.80 (more colors available)
NO.12 BONNIE BLUE RUG (8'X10") – $133.99 (more colors available)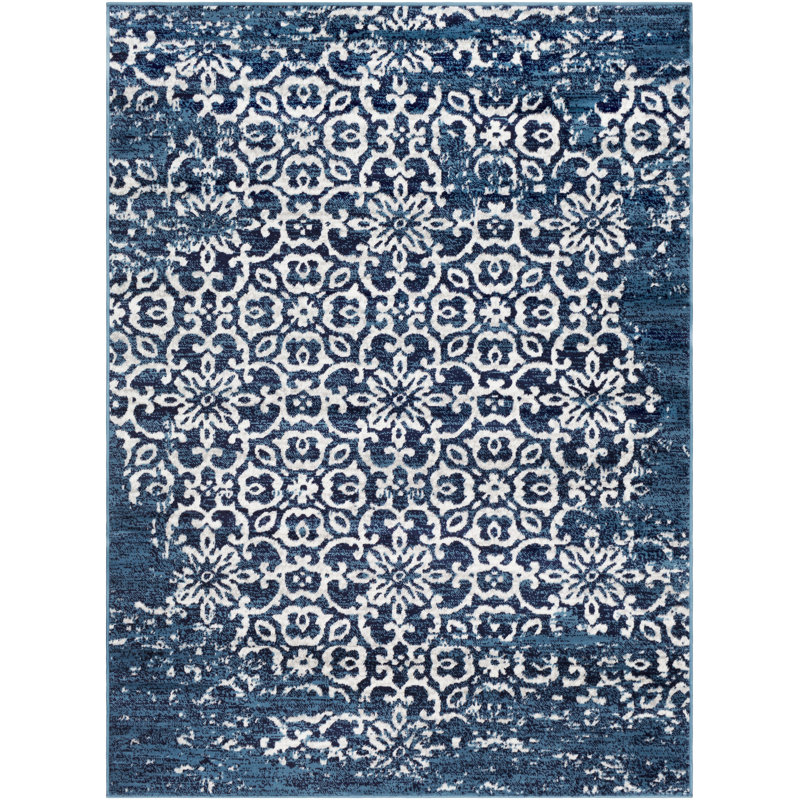 So, which one is your favorite? Do you like a blue/navy background with white specks, or a white/ivory background with blue specks?
So amazing how that totally changes the way the room looks – right?
I hope you found one that you like, and a little inspiration for your blue and white room decor. If you have any questions – let me know. I'd love to help!
HAVE A GREAT WEEK!!
LOVE & HUGS 🙂
---
Here are some more pictures with my new rug. Let me know what you think!!
Our rug came from Home Goods, but I can't find it online anywhere – sorry!! It is a Home Dynamix Toronto Collection Ivory/Blue.
*Here are some very similiar Options: Here and Here(Amazon), Here and Here(Overstock). *
Here is a closeup picture – love the different shades of blue!!
HAPPY SHOPPING!!
Getting ready for back to school? Try Back to School Party for Teachers (or Kids) or Top 10 Best Desks for Students.
Want to see more of our home? Try Home Tour: Coastal Farmhouse Master Bedroom or Master Bath Remodel: Hardware Accessories.
Love all things blue home decor? Try 14 Ways to Decorate with Blue: For Every Room & Budget.