I am excited to finally share our new black front door reveal with you, even though this will NOT be the same door we end up keeping! What?? It's been a very long road to get to this point, but at least we are up and functioning. With the flower beds refreshed and the new front door in, our curb appeal has gone up a notch! Plus, I added some fun summer front porch decor to bring in some color! Here is Our New Front Door Reveal: Summer Front Porch.
***NOTE*** This post contains affiliate links which means that I will receive a small compensation if you purchase something from these links. Please see my privacy and disclosure policies below. Thanks for your support. 🙂
---
Our New Front Door Reveal: Summer Front Porch
Here is our new black front door.
And now with a little summer yellow and blue to add in some sunshine for our hearts!
Does something look familiar?
Click here to shop front doors: Top 15 Best Exterior(Black) Front Doors
---
Our New Front Door Reveal: Summer Front Porch
First Things First:
Where did it all begin? Here is a before and after picture so that you can see the what our front elevation used to look like, and what it looks like now.
Secondly:
I know that y'all are either thinking the changes are:
so much cleaner and more modern… OR
what did she change anyway? ha!
There are so many parts (and decisions) that go into choosing a front door, that I will have to do a separate post for that all by itself. It was a lot more to it than I originally thought – just a fyi.
Here's a diagram to give you an idea of just a handful of front door terms.
In a nutshell, here are some door options for consideration:
wood, steel, or fiberglass
full-lite, 1/2 lite, 2/3 lite, or 3/4 lite door
one-panel or 2-panel, flat or raised panel
in-swing or out-swing
nickel, brass, black, or bronze hinges
4-lite, 6-lite, 9-lite windows, etc.
wood or metal sill
clear, privacy, low-E, or decorative glass filtering via 4feldco.com
side lites versus side windows
special order/custom versus standard door height: 80-inches (6-feet, 8-inches), standard door width 36-inches via homedepot.com
As you can see, a lot of time and thought goes into planning and designing a new front door. Who'd have thought there was this much to learn?
So, even though it may appear that the only change we made was the"style," there were a ton of modifications that went into this planning process.
Ok – let's get to the new front door reveal and summer front porch goodies!
---
Our New Front Door Reveal: Summer Front Porch
Installation:
I am going to break the installation into 5 steps to make it easier.
We special ordered our door, due to the 8 ft. tall height.
It arrived in 5-6 weeks, and was ready to be installed.
OUR door specs: black color (peppercorn), fiberglass, 4-lite windows, 2/3 lite door frame, one-panel, iron-clad with frames on exterior of window panes was the ONLY style that we could get for our height door.
Crazy – right?
My first choice was: 6-lite windows and 3/4 lite door frame – but nothing was available – go figure! I still love it, but just wanted to let you know that sometimes even well-planned ideas don't translate to real-life occurrences.
STEP #1: Removal of old door and frame
STEP #2:

Existing inside/outside trim is removed
STEP #3: Installation of new door and frame
STEP #4: New door handle is installed
We chose this satin nickel handle so that it would have cleaner, more modern lines. Our old handle was a little more traditional in style, and we wanted to change it up.
What do you think about our choice? I really love how it looks now!
STEP #5: Newly primed indoor/outdoor

trim is installed
For some reason, our new door was slightly larger than the old one. This caused the old trim pieces not to line up correctly, and created extra headaches.
NOTE: This was an issue for us. They put the existing trim back on off-centered (poorly), ripped off sheetrock in the process, and then expected US to higher someone to repair it!!
TIP: So, make sure you discuss the replacement of the door trim when ordering. We thought the installation covered them replacing our trim EXACTLY as it was previously built.
We agreed for us to paint it – not "fix & repair" it.
---
Painting Inside Trim:
Now, that the door and primed trim were installed, it was time for me to paint.
First, I had to fix the torn sheetrock and fill in all of the nail holes a little better. Then I painted 2 coats of SW Snowbound oil-based paint to match our existing trim.
AND THEN THIS HAPPENED!!!!!
The black paint came off of the door when I pulled off my painter's tape – ugh!!
I could not believe it!! It had taken about 3-4 weeks to finally find a door "close" to the one we really wanted, another 5-6 weeks for the door to arrive, and another week to plan the installation.
And this was the end result.
Solution in Progress:
I immediately called the company we ordered from and said that we needed a new replacement door because the paint was peeling off of this one.
So, then we received phone calls from 2 different employees of this door company, and they tried to offer us $100 of touch-up paint to fix the problem. WHAT???
They were trying to tell us that WE had damaged the door with the painter's tape. I simply asked the representative how were we supposed to paint the trim WITHOUT covering the door somehow?
Needless to say – we are in the process of receiving a new door because apparently sometimes the paint does not have a chance to fully cure properly.
So, they are trying to correct the problem.
But until then, I don't want to give out the name – just yet!
Ok – let's keep moving on 🙂
---
Painting Outside Trim:
Thankfully, I didn't have to cover the actual door on the outside with any tape – just the outer frame.
FYI – It took me longer to cover all of the side windows, door, and brick (~1 hour) than it took to actually paint.
I decided to change out the outdoor trim paint color so that it would match our indoor trim paint color better. Eventually all of it will be painted…… but for now…..baby steps!!
In the picture below, you can see at the top portion where I painted (left new color) and where I had not painted (old color).
We used exterior latex paint – SW Snowbound – 2 coats also for the outdoor trim.
This really made the black door "pop" versus the existing creamy trim color we had on it.
And of course, I couldn't wait to add some summer front porch decorations – even if we are getting a replacement door.
---
Summer Front Porch Decorating
The plan was to get our front flower beds done before the new door arrived, and it could all be picture perfect – which was like 4 weeks ago.
So, needless to say that plan did NOT work out – lol!
But better late than never – here is our summer front porch decor with my blues, yellows, and black accents.
My hello mat was the first item to come home with me.
And the yellow wreath has been with me for awhile, and still a keeper.
I just added the new french blue denim and striped ribbons to pull in the blue from the rug and hello mat.
I'm also loving these 2 large black planters from Wayfair.
They have this extra shelf you can place inside, so that you don't have to fill the entire planter with heavy potting soil. Great design idea!
Or you can try my faux plants method – LOL!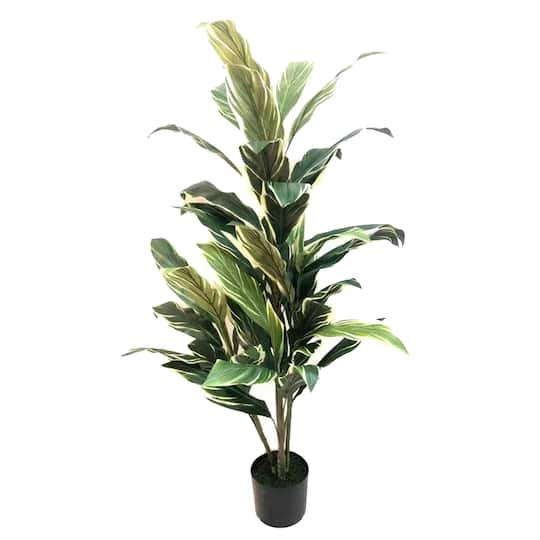 I found a great deal for these 2 artificial 4.5 ft. trees and 2 plastic buckets to hold them in – 50% off at Michael's.
Then I added some leftover pavers to weigh them down.
Next I added some greenery bushes from Hobby Lobby to fill in the base to cover the pavers.
I used 4 larger dark green bushes, and 4 smaller yellow-green bushes to make the planters look more authentic.
You can simply tuck 2 larger picks front and back, and then 2 smaller picks right and left of the pavers to fill gaps.
And if you choose this adorable outdoor rug from Target, it is reversible from plaid to stripes. Love it! That way you can change things up if you get bored with one of the prints.
BEFORE: Old door, Bad landscaping, No porch decoration
In conclusion – it was all worth it!
AFTER: New Front Door, Better Landscaping, & Summer Front Porch Decorated
I hope you found some inspiration if you're looking to change or update your own front door.
And with that my front yard makeover is complete – well except for refreshing the black awning and lights!! Always something to work on around here!
Have a Wonderful Summer & Happy Mother's Day Ladies!!
Love & Hugs 🙂
Recommended Posts:
Landscaping Front Yard Makeover (Before & After Pictures)
How to Plan Your Front Yard Landscaping Project
Fall Front Porch Ideas: Black + White
Spray Painting Fake Plants White: Front Porch Ideas
How to Spray Paint a Wreath White: DIY Wreath Ideas
DIY Faux Topiary Trees (Quick & Easy)
5 Tips: Adding Hardwood To Curved Staircase
DIY Spray Painting Wrought Iron Fence Tutorial
22 Stunning Black Front Door Inspirations
Best DIY Front Yard Landscaping Ideas: On a Budget
33 Stunning Outdoor Seating Inspirations
9 Affordable Ways To Update Your Outdoor Living Space
10 Ultimate Outdoor Summer Party Essentials
14 Easy Patriotic & Memorial Day Decorating Ideas
DIY Painted Flower Pot Tutorial: Blue Top
Painting Garage Doors Tutorial