If you are joining in from How To Stain Banisters Dark With Java Gel – welcome! I knew years ago that I wanted to give our stairs a major makeover by: replacing carpet with hardwood, staining handrails a darker color, and changing out the bottom step and curved newel post to give us more room. And it's finally done!! Now there is still a little tweaking left for me to finish (isn't there always), and I've got something new I'm adding (coming soon), but we're much happier with this new look. So, I wanted to share what I've learned with you. Let's get to it! 5 Tips: Adding Hardwood To Curved Staircase.
UPDATED: February 22, 2022.
*** New Pictures have been added to this post in certain sections.
To see the "extra" pictures – scroll to the very end of the post.
***NOTE*** This post contains affiliate links which means that I will receive a small compensation if you purchase something from these links. Please see my privacy and disclosure policies below. Thanks for your support. 🙂
---
5 Tips: Adding Hardwood To Curved Staircase
There are a lot of people I talk to that would love to change out their "worn" carpet on their stairs to hardwood, but don't know how or where to begin.
And since there is more than "just money and function" to consider, I wanted to share what I learned through our process with you.
FIRST THINGS FIRST:
Let's talk staircase anatomy. There was so much more to staircase design than I EVER could have imagined, and I think it's best to get familiar with some of the terms.
Here is a color-coded diagram to help you along the way.
Since I am not an expert on staircase terminology either (lol), having a picture makes it much easier to refer back to while learning the "parts."
Staircase Diagram:
Thank goodness there will NOT be a test at the end of this post, but it is important to have an idea of what the staircase looks like.
Now, let's move on to some of the supplies we used for our staircase renovation.
---
SUPPLIES for 15 Stairs:
(22) Hardwood Red Oak Tread 48″L – unfinished
(2) Hardwood Red Oak Tread 60'L – unfinished
(1) Newel Post Handrail Easing Fitting or Newel Post Handrail Cap Fitting – unfinished
(1 quart) Minwax Oil-Based Wood Conditioner
(1 Quart each) Jacobean Stain & Dark Walnut Stain (or here) – mixed together
( 1 Quart) Polyrurethane Oil-Based Sealer Satin
Rags
Paint Brushes
Floor Protectors
Painter's Tape
For Staircase Railing Info: Click How To Stain Banisters Dark With Java Gel.
Here is a picture of the actual hardwood tread (solid plank) that we used for our project. It also came with the nosing attached to make the installation easier.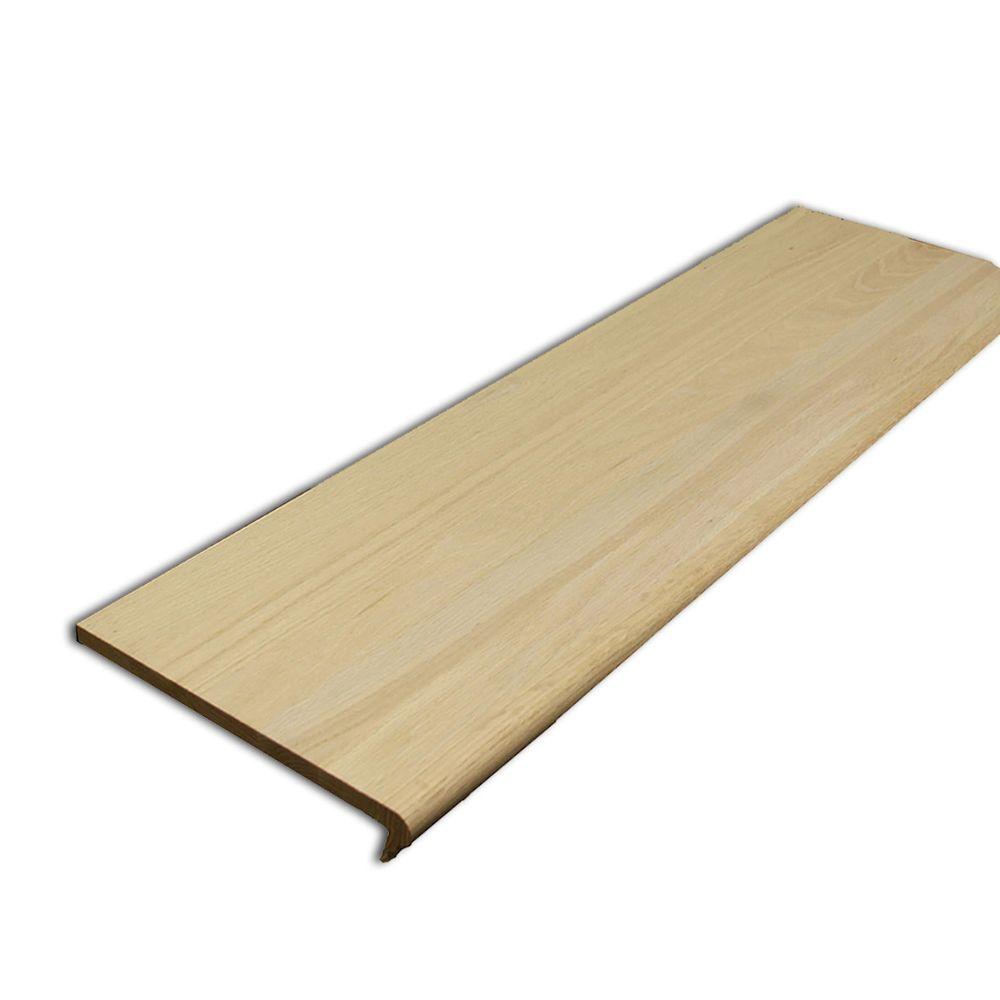 And the handrail cap fitting for newel post, depending on your needs.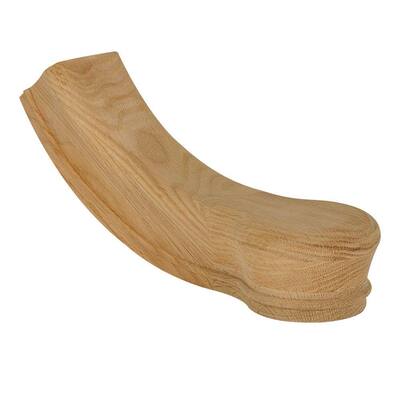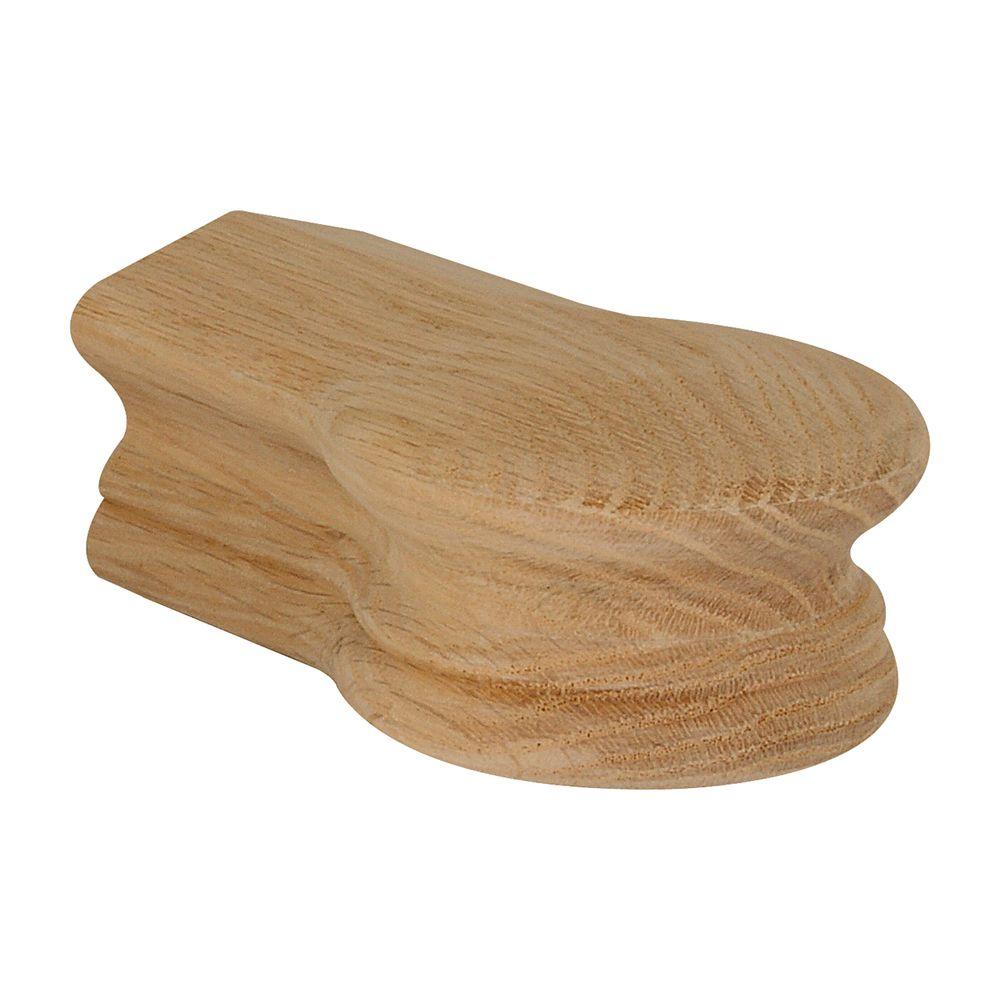 Ok, time to move on to the 5 tips, and the process of adding hardwood to our curved staircase.
---
5 Tips: Adding Hardwood To Curved Staircase
TIP #1: Set Up A Problem/Wish List & Get Ideas
If you're wanting to remodel your stairs, the first thing that I would recommend is setting up a problem or wish list. Basically what you want to change about your stairs, and what you want to keep.
Do you want to:
stain or paint handrails/newel posts
replace carpet with hardwoods
replace wooden balusters (spindles) with metal or cables
update newel posts
reconfigure bottom steps or shape
stained or painted hardwoods/risers
hardwood solid-plank treads or multi-plank hardwood flooring
Then search through pinterest or houzz and get some ideas on how you want your staircase to look.
In the picture below, take a look at some different ways the balusters/spindles can sit on the treads. The first picture is mine – and the second picture is from architectureideas.com.
This website has good information on different types of open or closed "stringers" if you want to check it out further.
I just wanted to show you that "one staircase does NOT fit all." (See below – Our Project #3 for more details).
---
TIP #2: Set a Budget & Timeline
After you've selected some inspiration pictures, it's time to do some research on staircase remodeling costs.
Set a Budget:
According to Home Advisor, staircase renovations cost anywhere from $1,000 on low end – $8,000 for a complete remodel, and on average $4,000 to put hardwoods on 10 – 12 stairs.
Some factors that go into that cost:
types of hardwood you choose (oak, pine, hickory, maple, bamboo, ash, etc.)
hire out or do the job DIY
use hardwood flooring or solid wood planks
refinish/stain the hardwood DIY or hire someone
do a cheaper remodel versus a more expensive remodel
Both of these are great articles if you want more detailed information.
Set a Timeline:
Also, set a timeline for your project and be prepared to be inconvenienced. It will take roughly 3 – 5 days to remove carpet and install hardwood on stairs.
So think about your living arrangements, kids, etc. – and how they will maneuver around the stairs while the project takes place.
Plus it will take another 3-5 days to stain/seal the treads (is using planks vs. flooring), paint risers, stain handrails, etc.
Our painters asked if we could stay somewhere else for 2 nights/days so that they could finish the staining/painting portion faster. Which we did.
Note: we were able to walk on our stairs about 24 hours later, which was good news (with SOCKS only for 2 days).
***BUT they were slippery with the socks. So, please be careful.***
---
HERE IS OUR PROJECT
1- Remove Right Newel Post/ Replace Left "Curved" Volute
***New Pics Added Below February 22, 2022. ***
Here you can tell how much room the curved volute handrails/newel post/spindles take up on the sides of the stairs (old picture – but it's all I had – sorry).
Even though they are beautiful and make the staircase entry look grand, they really took up a ton of space.
They also cut off traffic flow from the front door to the kitchen, and took up valuable space in our dining room (which is already small).
Before stained (Old picture)
And here is the right side after it's been stained and removed.
After pictures – Much better!!
Now, the right side opens up creating better traffic flow, and the left side looks cleaner and less bulky with the smaller newel post cap fitting.
*** Here is a closeup of the new addition. I did not take a picture of it before I stained it – sorry again!
Your carpenter will have to play around with the angle of the handrail, and might have to cut some off to fit.
---
2 – Square off Bottom Stair
Ok – let me just say that having the bottom stair squared off was one of the BEST decisions ever – and boy did the carpenters FIGHT me on this!!
That is why they laid the hardwood floor first (the initial contractor with the flood), because he was never planning on honoring the contract and changing that bottom stair.
But guess what – our second contractor/carpenter didn't want to do this either – ugh!! Men!!
And not a day goes by that I ever regret it!!
I just wanted to show you the difference it makes with the rounded bottom, and how much room it takes up.
This picture was also from the flood, but it was the only picture I had – again!
Since our front door opens up directly into the staircase, we need all the extra room we can get.
And even though this change might appear to be small & pesky, it has definitely made a big difference (for both sides).
---
3 – Remove Carpet/Choose (Solid Plank) Hardwood Treads
One little thing that I learned through all of this – is that some stairs that are made for carpet – really aren't made for hardwoods. What??
And guess what kind we have? You guessed it – the ones that aren't!!
Remember that picture above with the different spindles on the treads and molding? That's where this "little issue" comes into play.
So basically our stairs have a plywood board underneath the carpet, but they are shorter than the molding piece to allow for carpet (and padding thickness).
And here is a closeup picture so that you can see that the "existing tread" isn't deep enough – and that means that the riser isn't "thick enough" to fit the new tread either.
Our measurement was about ~ 1 1/4 " deep.
Oh- the fun!!
Plus, this also means that the new tread HAS to align evenly (flush) with that side molding or close so that it doesn't look funny (too low or too high).
Hard to tell from this picture below – but we needed 5/8″H treads = .625″.
On a ruler the smaller hash marks are:
1/2″, 9/16″, 5/8″, 11/16″, 3/4″
5/8″ – in the middle of 1/2″ and 3/4″
TIP #3: Check Design of Stairs (before you start the process)
This will most likely change the options you have: like solid planks versus hardwood multi planks (like engineered hardwood floor planks….and the budget). 😉
Our carpenter fixed the issue by adding extra plywood blocks underneath the riser.
And this is also why we ended up choosing the solid treads with the nosing (that are 5/8″ H x 11 1/2″W) – to fit our existing plywood boards.
Here is our mock setup so you see it close up.
*** Here is a picture of the extra plywood added to the risers.
And then the finished piece on top of those plywood blocks.
---
4 – Install Solid Hardwood Planks to Curved Staircase
Out of our 15 stairs, there are 10 curved, 4 straight at the same length, and 2 at additional longer lengths.
I just wanted to give you this info so that you aware how "custom" all of the planks will be.
Basically this means that the carpenter has to measure and cut EACH.SINGLE.PLANK differently = A LOT of time.
Each curved stair will also have an extra "pie-shaped gap" that needs to be filled.
This is the reason we ordered 8 extra planks so that they could cut and fill each curved stair "gap."
Tip #4: Do not let your contractor or carpenter talk you out of something you want.
I wanted the solid treads (one board) versus hardwood flooring (2-5 boards), and they kept telling me it was not possible.
Even though the flooring "tread" looks beautiful also, I just wanted a cleaner (no joints) appearance. It was my dream stairs – you know like your dream wedding – LOL!!
Anyhoo…. the contractor/carpenter told me I had to use flooring boards – so I had to prove them wrong. I found some articles and pictures – and bam – it was magic!!
And I will be the first to admit that the carpenter did stunning work, and he was SO proud!!
Since this was his first attempt at installing the solid tread planks, he told me that he could now add this "skill" to his portfolio.
So, just go with your gut ladies and don't be afraid to ask for what you want!
---
5 – Stain and Seal Staircase
It's so exciting at this stage to see how your new staircase will look, and then they remind you that the staining process takes JUST about the same amount of time as the installation process – UGH!!
Which, I have to admit that I already knew because I am a painter/stain-er, but still it's a little depressing.
Notes:
If you are using hardwood flooring, skip this step. Good news for you!
And if you want to save money, stain the stairs yourself. Just remember to stain every other stair – so that it leaves you a path to go up and down while working. 😉
Your hardwood stairs do not have to match your hardwood floors exactly. They can be close in color range, and still look fine.
TIP #5: Test Stain Colors Out First on Actual Hardwood Tread
If you are using hardwood that requires staining, I highly recommend testing out the colors on the actual hardwood tread/plank first (just use a piece that is leftover).
And write the names on the back so you will remember – trust me!
Different wood types will take stain differently – so this is VERY important. I also highly encourage you to use the wood conditioner before staining.
It is extra work, but worth the time. I specifically asked (begged actually) our painters to use the wood conditioner, and they told me that they used it – but they DID not!!
And how do I know?
This is what happens (below) when you don't use wood conditioner on new wood – it leaves "bare" spots that simply will NOT take stain.
Thank goodness there are only 4 stairs like this, but there should be zero.
Ok, moving on now – ha!!
We mixed the Dark Walnut and Jacobean stains together (1:1 ratio – equal parts), but they botched this a little as well.
The color ended up looking a little more yellow (like the Jacobean tint) than we had planned. But it'll do for now!
So, definitely make for sure you test the stain colors, have them show pictures of their prior work, go look at their work in-person, and get referrals.
Here are some pictures after the 2nd coat.
And now. Still beautiful, and we truly do love it.
You Are Done!!
Overall, we are SO HAPPY with how our stairs turned out. Our ugly carpet is finally gone, and the hardwoods give our entry a much nicer look.
Side view.
Top View.
Full View.
***To see our updated staircase: Click Adding Removable Wallpaper To Stair Risers: Under $35.
Have a Great Week!!
Love & Hugs 🙂
Recommended Posts:
15 Best Black Chandeliers & Light Pendants
Our New Front Door Reveal: Summer Front Porch
33 Ideas – Decorating Stairs For Christmas Staircase
14 Easy Patriotic & Memorial Day Decorating Ideas
Easy Christmas Staircase Decorating Idea: Pine Sprays
15 Easy Valentine's Day Decorations You Have To Try
---
EXTRA PICS ADDED