If you're looking for quick and simple ways to decorate for Valentine's Day this year (that are also very budget-friendly), you've come to the right post! Whether you're looking for DIY or homemade project ideas, or just want to head over to Target and pick up a couple of items, there is something for everyone! They can also be used for kids' crafts, or even an adult party. So who's ready to get those creative juices flowing? Here are 15 Easy Valentine's Day Decorating Ideas (You Have To Try).
***NOTE*** This post contains affiliate links which mean that I will receive a small compensation if you purchase something from these links. Please see my privacy and disclosure policies below. Thanks for your support :).
---
15 EASY VALENTINES DAY DECORATING IDEAS
(YOU HAVE TO TRY)
So, you've scrolled through pinterest for some ideas, but you're still wondering:
Where can I put Valentines Day decorations?
What should I use for Valentine's Day decorations?
Here are some examples:
entry (front door wreaths, welcome mats, consoles, & staircase decor)
living room (fireplace mantel, bookshelf, pillows & throw blankets)
kitchen (coffee mugs, pot holders, oven mitts, & aprons)
dining room (table runners, serving baskets, candy dishes, & centerpieces)
powder bath (rugs & hand towels)
Basically, there IS a place to add a little touch of LOVE and romance this Valentine's season! You just need to decide what and where you're going to put your "love!!"
So, let's get to the good stuff!! Here are 15 Easy Valentines Day Decorating Ideas.
---
15 EASY VALENTINES DAY DECORATING IDEAS
(YOU HAVE TO TRY)
#1 CAKE STAND WREATH
This is such a simple idea that makes a bold statement.
Simply take 7 or 8 multi-colored foam hearts and place them on top of a white cake stand. Then add a glass candle holder and white candle to complete the look.
I found my package of foam hearts at Target, but you can get them at Michael's, Amazon-similar, or Hobby Lobby – similar also.
I used my cake stand wreath on our entry console table, but it would also look adorable as a dining room centerpiece.
---
#2 WRAPPED PRESENTS
We use this little trick all of the time for the Christmas season, so why not bring it out for Valentine's Day!
Simple wrap a couple of boxes that you have lying around the house with pink wrapping paper, and attach Valentine's Ribbon. Then make a beautiful bow to add a little drama.
You can sprinkle these little cuties anywhere around the house to add a touch of pink cheer.
---
#3 PINK HEART-SHAPED BASKET
Use a pink heart-shaped basket, galvanized tin, or paper mache box to add a little romantic whimsy to your home or party. Can't find a pink one, then spray paint it!
I've had my little heart basket since we got married, and I still find a million ways to use it each year.
Prop it on it's side to use as a decorative accent piece or use flat to serve bread & candy, or store remotes and bath accessories.
---
#4 XOXO WALL SIGN
Try hanging a galvanized tin XOXO wall sign in a bookshelf, or above a gallery wall full of family photos. It breaks up all of the other accents, and brings in a playful vibe.
*I found mine tin xoxo sign from Hobby Lobby, but am having a problem finding the link – sorry! *
Or you could also try a tabletop version to use on an end table, coffee table, or entry console table.
---
#5 FIREPLACE MANTEL HEART GARLAND
Try a DIY Pom Pom Mantel Garland (post is ready) to your living room fireplace to add some cheerful colors this Valentine's season.
The bright colors of the foam hearts really pop off of all of the white shiplap and brick fireplace surround.
Doesn't it just make you happy? Me too 😉
---
#6 VALENTINE'S DAY WREATH
This pink tulip medley wreath is perfect for welcoming your guests not for only Valentine's Day, but for the entire spring season as well.
Use it on your front door to add a ton of color to the winter "blues," or use it indoors to accent a wall or mirror.
Click 31 Cheerful & Colorful Spring Wreaths for more wreath inspiration and ideas.
---
#7 HEART-SHAPED POT HOLDERS, OVEN MITTS, & TEA TOWELS
Don't forget about adding simple touches of heart-shaped accessories that you can use every day also.
Try valentine-themed pot holders, oven mitts, aprons, hand and tea towels.
Use them in your kitchen or dining room, or even in your powder and guest bathrooms.
---
#8 COFFEE MUGS & COASTERS
Like the more "functional" items mentioned above, coffee mugs are also a great way to spread valentine's sentiments with your family and friends.
Use mugs with "love" expressions to share with your girl friends over coffee or hot chocolate gossip sessions!!
Remember those foam hearts? Use a couple of them for instant coasters. Love it!
---
#9 PINK BUFFALO CHECK THROW BLANKET
Nothing says "come on over & snuggle with me," like a soft throw blanket during the winter months. And who could resist this adorable pink buffalo check one – right?
It adds a little farmhouse chic style to the decorations, and keeps it from looking too girly.
Bonus: I already had it from my Pink Pumpkin Patch Fall Home Tour, so I just pulled it back out again.
---
#10 FALLING FOAM HEARTS
You've probably noticed that I LOVE these foam hearts by now.
I mean – 24 hearts for only $5.00 goes a long way!
Here in our entryway, I've used them by double taping them to the wall like they are loosely falling onto the staircase and bench.
You can even place them inside picture frames since they are so thin & easy to work with.
---
#11 WELCOME MAT OR RUG
Use a Valentine's day themed- welcome mat for your front and back doors, or a rug for your entryway or powder bath.
This will ensure that all of your guest feel the love on their feet also 😉
Choose a mat like the one below that you can use all year long.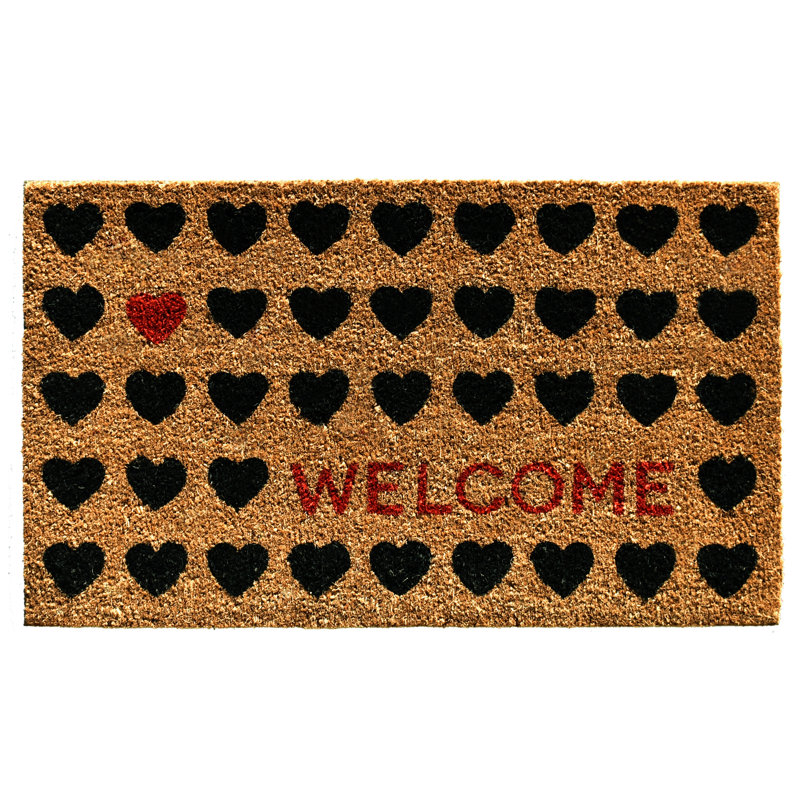 ---
#12 HEART-SHAPED CANDLES
Using heart-themed candles, or using red and pink candles, is a great way to bring in the romantic senses to your home decor also.
I have had these little pink heart votive candles (by photo and also in #13 by xoxo sign ) for 17 years, and I still love them!
They are so sweet and simple, and they make me smile every time I look at them.
*Don't be afraid to mix old with new – makes decorating more special*
---
#13 PINK HEART TIN PAILS
I found these adorable light pink and hot pink heart tin pails at Target, and just think they are so adorable!
I accented mine with white flowers, but they would be even cuter with mini votive candles.
And I guess they are extremely popular, because I went back 2 more time to buy more, and there still are none left!!
*Similar: light pink and hot pink metal buckets.*
---
#13 LOVE THROW PILLOW
Sometimes…. it just has to be literal!
The love pillow basically says it all, no matter how you spell it!!
Choose a coral pink love pillow like mine or try a red heart or pink heart if that's more your style.
You can always use a xoxo pillow too – they are all so cute!!
---
#15 CANDY ORNAMENT TREE BRANCHES
This idea is so fun, and definitely a little crazy – that's why i love it!!
It's super easy to do, and very light on the wallet.
I used short and long Christmas ornament hooks to poke through my candy papers, and just hung them randomly onto the branches.
This works best with the pink starbursts, but feel free to add your favorite candy.
Isn't it so fun??
I hope you found some great decorating ideas to use for Valentine's Day this year, and that you fill your home with all things "love."
HAPPY VALENTINE'S DAY!
LOVE & HUGS 🙂
BONUS: Click here to see how to use for table decoration.
Want more spring decorating Ideas?
Valentine's Day Table Setting: Coral & Aqua
DIY Heart Napkin Rings: Valentine's Day Decor
DIY Valentine's Day Mantel Garland Tutorial
31 Cheerful & Colorful Spring Wreaths
33 Stunning Outdoor Seating Inspirations
10 Ways To Add Color To Your Entry
26 Gorgeous Easter Tablescapes To Try
DIY Painted Flower Pot Tutorial: Blue Top
4 Adorable Summer Front Porch Styles To Try