Have you noticed that the modern farmhouse decor trend is definitely beginning to shift – a bunch? There is a little less black and white, and colors are finally beginning to creep back in. Plus, with the L.O.N.G year that we all have had…. it's refreshing to see some happy colors emerge again in 2021! And…. not that modern farmhouse style is completely going out of style, it's just got some new friends: Grand Millennial (aka Granny Chic) & Boho Botanical (my own term – lol). So, who's ready? Is Grandmillennial Style The NEW Modern Farmhouse Decor Trend?
I just want to say upfront that these are 2021 and 2022 trends that I have either read about, or that I have noticed popping up in stores, photos, or products.
And of course, YOU are the one who gets to decide if they are the trends that YOU would like to incorporate into your own home (or not) 😉
Ok, let's get to it.
Here's my own version. It's really like I'm saying "wasn't granny chic ALWAYS in style?" Maybe for me at least anyway 😉
---
Is Grandmillennial Style The NEW Modern Farmhouse Decor Trend?
First Things First:
I'm not saying that Grandmillennial Style is Replacing Modern Farmhouse style, I'm simply asking if it will be the NEW hot decorating trend – Like modern farmhouse was.
Second:
I believe that " modern" farmhouse isn't going out-of-style completely, it's just evolving into other styles.
But "farmhouse style" without the modern association – has been around forever. And it will always have a dedicated and loyal group of followers – no matter what prefix or suffix you add to it.
Ok, just needed to clarify those 2 points before we get into the nitty gritty!!
---
Is Grandmillennial Style The NEW Modern Farmhouse Decor Trend?
Modern Farmhouse style has been evolving for the last 3-5 years or so into: boho farmhouse, coastal farmhouse, farmhouse chic, traditional farmhouse, rustic farmhouse, industrial farmhouse (and more – you get the picture ).
And now I believe the current term for the new modern farmhouse style in 2021 is "New Traditional."
So, here are 3 Decor Style Trends that I see taking off right now. You can look at the characteristics to see how they differ.
And of course, like most people, you'll probably like traits in all 3 decorating styles.
3 Decor Style Trends:
1) Modern Farmhouse (New Traditional)
Clean Lines
Black Fixtures
Black and White Color Palette
Neutral Upholstery, No Patterns
Country or Rustic Appearance
More Masculine
Heavy w/Wood & Metal Elements
Minimalist
2) Grandmillennial (Granny Chic):
Soft Curves
Brass or Glass/Crystal Fixtures
Use of Soft Colors or Deep, Rich Colors
Upholstery w/Color, and Patterns
Elegant or Refined Appearance
More Feminine
Heavy w/Fabric & (Colored) Glass Elements
Maximalist
3) Boho Botanical (My Term):
Clean Lines and Soft Curves
Gold/Brass, White, and Rattan/Wicker Fixtures
Use of Bright Colors or Muted Colors
Mixed Upholstery w/Neutrals, and Patterns
Casually Elegant Appearance
More Feminine and Cheerful
Heavy w/Wicker & Rattan Elements
Medium-ist (yep, my own word) 😉
If I had to pick an easy way to visualize the "look" of each style, I would say:
New Traditional: Think Studio McGee + Magnolia + Pottery Barn
Granny Chic: Think Ballard Designs + Caitlin Wilson + Thibaut
Boho Botanical: Think Anthropologie + Serena & Lily
But for today's post I am going to talk about Grandmillenial Style.
I will get to Boho Botanical soon!
Ok, let's get to it: Is Grandmillennial Style The NEW Modern Farmhouse Decor Trend?
---
Is Grandmillennial Style The NEW Modern Farmhouse Decor Trend?
So, I have been noticing more and more of this grandmillennial style showing up on pinterest, tv (Jenna & Hoda), online, and in stores.
House Beautiful dubbed this style "Grandmillenial Style" in the fall of 2019 because it has a granny chic (or "grandma chic") look and is popular to the millennials age group.
And it's not new – (2019) so I'm a little late to the party – haha!
Anyhoo….. let's get to what is popping up in more homes with this cute, happy trend.
---
Is Grandmillennial Style The NEW Decor Trend?
10 Grandmillennial Style Decor Essentials:
Floral/Chintz/Botanical/Block Print Pillows
Curved/Rounded Furniture
Less Monochromatic/More Multi-Color Palettes
Pleated Lamp Shades
Framed Landscape or Vintage Pictures
Gold/Brass Accents
European Furniture Detail
Round Velvet (Pintuck) & Bolster Pillows
Wallpaper
Upholstery or Fabric w/Patterns & Fringe
I have chosen items and pictures that fit my "definition of grandmillenial style," but feel free to put your own spin on it.
Basically, just think of this style as:
collected and/or quirky
European English manor meets flea market cottage
pattern palooza – fabric, wallpaper, & upholstery
traditional furnishings mixed with modern colors or accent pieces
Let's move on to the 10 Grandmillennial Style Decor Essentials!
---
#1: Floral/Chintz/Botanical/Block Print Pillows
Using florals or chintz is one of the main essentials for decorating in granny chic style.
Here below, the blue and white chintz fabric is used on the pillows and headboard, giving it a modern look.
And even though this room is more subtle in all crisp white, it is filled with tons of texture to create that homey, cottage feeling:
shiplap wall/ceiling, beaded chandelier, fringed rug, woven roman shades, and scalloped lamp shade.
---
#2: Curved/Rounded Furniture
Curved and rounded furniture is another important grandmillennial style decorating essential.
These barrel chairs (pictured below), rounded (crescent) sofas, and even curved console tables are coming back into style.
A little personal note:
My husband actually had a barrel chair when we first met.
So we had it, then got rid of it…… then got it back again, and got rid of it again (LOL) – in the 19 years that we've been married.
So, needless to say, decorating trends have a way of making the full circle of going and coming back into style.
---
#3: Less Monochromatic/More Multi-Color Palettes
Both of these photos below show how the grandmillennial style lovers use multiple colors when decorating (soft and hard surfaces).
Below, the fabric colors (soft surfaces) are blue, white, and green while the furniture (hard surfaces) are black, brown, and bronze.
The green plants just help to bring the two color groups together.
Don't forget about your outdoor entertaining spaces as well.
This photos isn't exactly granny chic, but uses different old and new furnishings to bring in character (a must-have quality in this style).
Below, they chose brighter blues and pinks as the dominant colors, but balanced out the boldness with the tan/gray light pendants, ottoman, table, and legs of the bistro chairs.
Then they added in the yellow lemons and greenery to pop off of the neutral table decoration.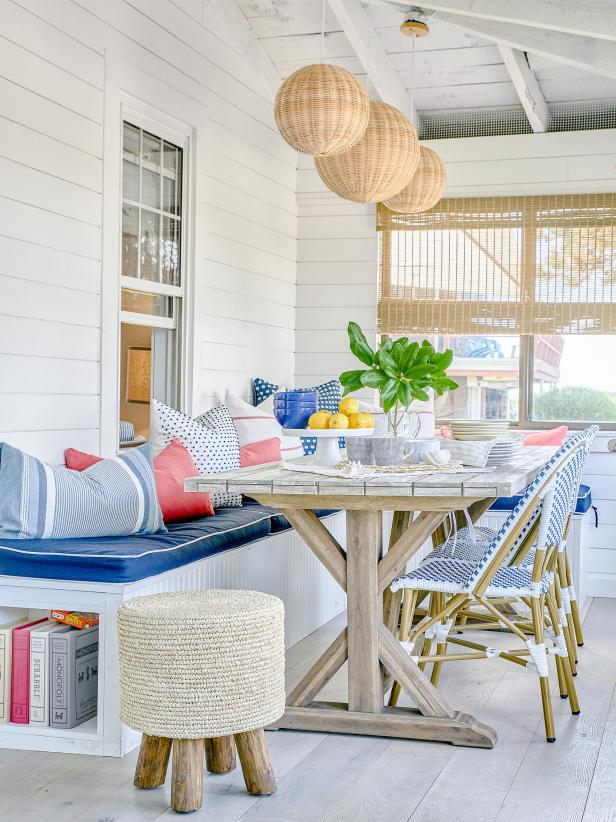 ---
#4: Pleated Lamp Shades
I remember reading that pleated and tapered lamp shades were going to start trending before covid, but then it was like they were put on hold.
Of course, it was probably that the "world" was actually put on hold….but they are definitely trending now.
If you don't want to commit to the whole "granny chic" look, just try a solid white, cream, or gray pleated lamp shade.
I love both of the ways that Society Social has styled the pleated, patterned lamp shades.
The picture above uses them with a more modern vignette, and the picture below uses them in a more granny chic vignette.
---
#5: Framed Landscape or Vintage Pictures
Think English country manor or southern cottage style here – a feeling of "collected over time."
These pictures can be of landscapes, country homes, European villas, and portraits (like below).
Go with black, or dark frames for a more masculine look or go with gold, or lighter-colored frames for a more feminine look.
---
#6: Gold/Brass Accents
Gold and brass is basically everywhere right now.
I love how people are mixing it in with black, bronze, and stainless/brushed nickel metals throughout their homes.
Try it on mirrors, frames, hardware, light fixtures, vent hoods, and on furniture.
Don't forget about gold lampshades, curtain rods, or gold trim detail also – like the gold trim on the barrel chair below.
---
#7: European Furniture Detail
This master bedroom is simply stunning.
It is more soothing than some of the other grandmillennial – styled rooms, but incorporates the use of European furniture detail beautifully.
Did you find them all?
the accent chairs, the bench, the headboard, the sconce, the accent table, the mirror, and even the fireplace.
---
#8: Round Velvet (Pintuck) & Bolster Pillows
This picture is more coastal/modern farmhouse style, but I just wanted to show you how to incorporate the vintage round velvet pillow into your existing decor.
You can see how easy it is to use just one or two elements of grandmillennial style, without completely committing to the look.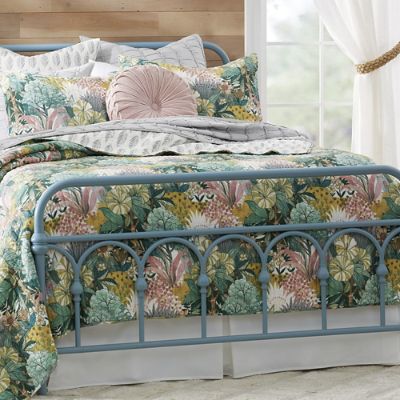 Bolsters Pillows are also making a comeback.
Try using them on the ends of living room sofas, entry way benches, or on daybeds.
You can also try one long bolster in your bedroom.
They don't have to be in crazy, patterned fabric either.
You could always try a simple, striped pattern like the one pictured below, or even a plain, solid velvet bolster.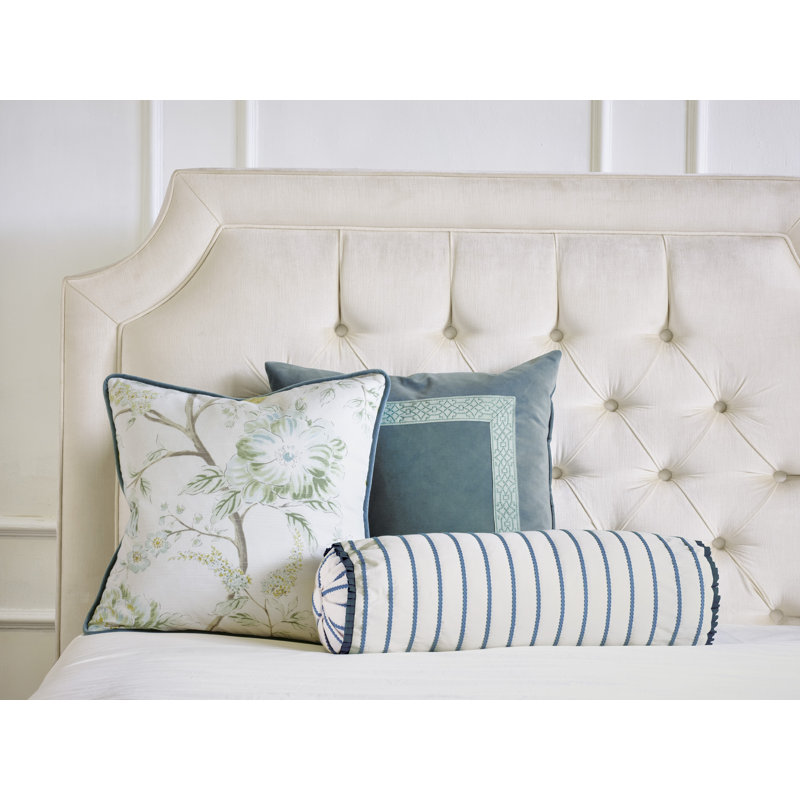 ---
#9: Wallpaper
Isn't this room by Ballard Designs, just the most adorable room ever? How could you walk into this dining room and NOT smile?
I love how the bold boho style flowers in the wallpaper blend effortlessly with the classic blue painted china cabinet and blue lamp shades.
It's a great mix of fun + funky + functional. Look at that incredible light pendant – so cute!
I just had to include this stunning combination by Thibaut also.
Here the colors stay in the blue and white color palette only, but blend different patterns in the wallpaper, the chair fabric, and the antique collectibles on the campaign dresser.
Plus, I just happen to have a similar mirror. Click Faux Bamboo Mirror in Recommended Posts below to see it.
---
#10: Upholstery or Fabric w/Patterns & Fringe
Remember, this is the perfect style for the maximalist.
Try different colors while mixing large and small patterns to keep the eye moving from piece to piece.
Go Subtle: using the same pattern over and over again.
Go Bold: using different patterned curtains, bedding, rugs, or wallpapered accent wall.
Fringe is back – what?? Yes, definitely on furniture and accessories.
But fringe doesn't have to be limited to fabric, upholstery, or pillows to get this grandmillennial look.
Try fringed lamps or even light pendants, like the one below.
Go bold with brighter colors, or go subtle with whites or tans.
Well, what do you think? Is this Grandmillennial Style trend something you will give a try? Let me know.
Have a Great Summer!!
Love & Hugs 🙂
Recommended Posts:
Faux Bamboo Mirror Makeover (Gold Spray Paint)
DIY Spray Painting Old Window Frames Gold
Home Tour: Coastal Farmhouse Master Bedroom
14 Ways to Add Color to Your Entry
7 Benefits: Kitchen Banquette Breakfast Nooks
12 Best White Rattan & Bamboo Dining Chairs
DIY Faux Topiary Trees (Quick & Easy)
Setting a Fall Centerpiece In 8 Easy Steps
My House Paint Colors: House of Blues