I have wanted to add curtains to our living room for awhile now, and knew this was the perfect time to get the job done! I had thrown away our old curtains when we flooded, but still had 6 IKEA RITVA white linen curtains leftover from my bedroom. Yay – money saved! So I washed them…… and they SHRUNK! Plus, they were a more yellowish – creamy color than I remembered. But I did a little of this, and a little of that, and now they are whiter and actually grew!! Here is how I did it all! How To Hang Curtains: IKEA Tips & Tricks.
***NOTE*** This post contains affiliate links which means that I will receive a small compensation if you purchase something from these links. Please see my privacy and disclosure policies below. Thanks for your support. 🙂
---
How To Hang Curtains: IKEA Tips & Tricks
I just wanted to show some before and after pictures, so you can have an idea of what our living room windows look like.
Before.
And After.
Much better – right? The curtains just add a simple, "finished" touch to the room without screaming for attention.
Ok, let's get to the supplies needed and some IKEA tips & tricks.
---
SUPPLIES:
HELPFUL SUPPLY & WHITENING TIPS:
*TIP #1: The BETYDLIG brackets are sold individually, and do not come with screws/anchors. I made this mistake, but fortunately had bought extra brackets to do my bedroom curtains.
But then when I went back to buy more brackets (to replace the ones I had borrowed for my bedroom curtains), they were all out because of the pandemic – UGH!!
**TIP #2: The RIKTIG hooks are an optional method used for creating pinch pleats – to be used with curtain rings.
***TIP #3: This Walmart Great Value Brand – actually bleaches/whitens the RITVA curtains ….. AND clothes. So be careful with anything else you may accidentally splash when using it.
RIKTIG hooks pictured below. The top of the pin would slip into the hoop on a curtain ring. I just wanted to show you in case you haven't heard of them yet (see picture in curtain styles below).
---
How To Hang Curtains: IKEA Tips & Tricks
FIRST THINGS FIRST:
Let me just say that are a ton of factors that go into hanging curtains, but I'm going to try to make this as simple and easy as possible.
Otherwise you will get completely overwhelmed with extra "numbers and measurements" and will end up with unnecessary holes in the walls – LOL – trust me!
SECOND:
I did a little digging and found this diagram from World Market that explains how to measure your windows and choose how you want your curtains to look.
Here are outside window mount standard measurements and panel fullness recommendations:
add 3″- 12″ above your top window frame (6″ recommended)
add at least 3″ to both sides of your window frame (6″ recommended)
add 3″ for bigger finial sizes to rod length on both sides
add 2 1/2″ – 3″ to curtain length for curtain rings
every 50″ of rod length = 2 panels
These are just recommendations, but they will give you a good idea of how to measure for curtain rod placement, finials, curtain rings/hooks, and curtain panel fullness.
---
Here are the Steps: How To Hang Curtains
STEP #1: MEASURE YOUR WINDOW DIMENSIONS
The first thing you will want to do is measure your window height and width, including any trim. Then you can decide how high and how wide you want to mount your curtains.
This measurement will also let you know if you can get away with a ready-made curtain length panel like 84″, 96″, or 98″L sizes.
My measurements were 111 1/2″W x 95 1/2″H back window, and 50″W x 96″H side window.
So I needed:
a long rod (with an additional middle support bracket) 83″W – 152″W, and a medium rod 47″W – 83″W.
This 95 1/2″H – 96″H trim (yes this happens a bunch, window widths will be also be a little different) means that I needed either a 96″L curtain + 2 1/2″ – 3″ rings/clips, or a curtain that was at least 98″L or longer to cover the top trim and windows.
Here's the math:
For my living room I knew that the trim is 95 1/2″H, and my curtain rod is 98 1/2″H (3 inches higher) because I was using curtains I already owned that were 98″L.
The reason I chose this height is so that I could use IKEA curtains (which are 98″L) AND use other ready-made brands that are 96″L with rings/clips = 96″ + 2 1/2″ = 98 1/2″L.
TRICK #1: This 98 1/2 "H curtain rod mount helps allows me to use 98″L and 96″H curtain lengths with either rod pocket panels or with curtain rings to adjust heights.
(The actual bracket is mounted at 99 1/2″H, and the ROD HEIGHT is 98 1/2″H – just wanted to clear that up).
---
STEP #2: DECIDE HOW YOU WILL HANG YOUR CURTAINS
Now that you know you're window measurements, it's time to choose your curtain style, and how you will hang it.
If you look at these 6 curtain styles below, you can tell that different designs dictate where you will mount your curtain bracket/hardware.
For example:
if you need a shorter version, go with the back tabs, rod pocket, or grommet styles.
if you need a longer version, go with the tab top, ring with clips, or ring with RIKTIG styles.
Since I already knew I was using my IKEA RITVA 98″L curtains, my planning process was much easier.
The reason I wanted to go over all of this (I know it's boring) is because choosing the style and hanging method is the most important part of the entire process.
Once you know where you want your brackets, it goes by pretty quickly. Hang in there!
---
STEP #3: MEASURE YOUR CURTAIN LENGTH
So, normally you would measure your windows and then determine the length needed for your curtains. But since I already had mine, it was kind of like the chicken before the egg thing? haha!
MEASURING:
The first thing you will want to do is measure all of your ready-made curtain lengths. It's always a good rule of thumb to measure – just to double check.
Sidebar: I washed all of my RITVA curtains after we flooded, and they all shrunk!! And how did I know this – well because I measured all of them.
I had 6 curtains ranging anywhere from 93″L – 96″L – UGH!! That meant that the 3 curtains that were around 93″L would NO LONGER WORK!
WASHING & WHITENING:
And they were more yellow-ish/creamier than I remember, but I knew these 6 curtains were going to HAVE to work.
TRICK #2: So, I washed them again with 1/2 cup Great Value Bleach (cold water, 15 minute cycle, 2 at a time), and let them air dry hanging over my ironing board for one full day.
Then I let them hang over my dining room chairs for another day. And they GREW…..and they were WHITER!!
Now, they were still ALL different sizes: 96 "L – 98 1/2″L – but hey – they would now work!!
***NOTE: If you want these whiter, wash them again. They were a softer "white linen" color after one wash, and they were worked with my color scheme.
Also – Clorox did not work for me.
We had this Great Value bleach left over from all of the bleaching from the flood – and I had accidentally bleached out something with it.
So, needless to say I knew that it actually bleached/brightened AND whitened!
Ok – let's get to actually hanging the curtains!
---
STEP #4: MARK HOLES FOR ANCHORS
I decided to mark my brackets at 7″W, 3″H for the left side of the larger back window, and 7 "W, 3″H to the right side of the side window.
Notice how I said "mark" not make a hole. The reason for this is because I had to make for sure that the corner brackets would work with the same measurements.
And sure enough – I had to do a little tweaking for the 2 corner brackets.
This is what I did. Since these IKEA BETYDLIG brackets have one short side and one long side, I just turned one of them so that both rods would still work.
The left bracket is longer at the bottom, and the right bracket is shorter at the bottom. This was also how I did the middle support bracket on the larger back window (short side).
I know this picture already shows the screws installed – but I just wasn't able to take a picture while holding both of these brackets and the phone – LOL 😉
***NOTE*** Please make sure that whatever size finials you are using fit in this corner area as well – or if you're choosing not to use finials.
Otherwise, one of the curtain rods WILL NOT fit – again trust me!! haha!!
---
STEP #5: INSTALL ANCHORS/SCREWS & BRACKETS
Now that you have your holes marked it is time to attach the brackets to the wall. Since the BETYDLIG brackets don't come with anchor/screws, I highly recommend the ones I listed in supplies.
Here's a larger package to give you an idea of what they look like – blue ones.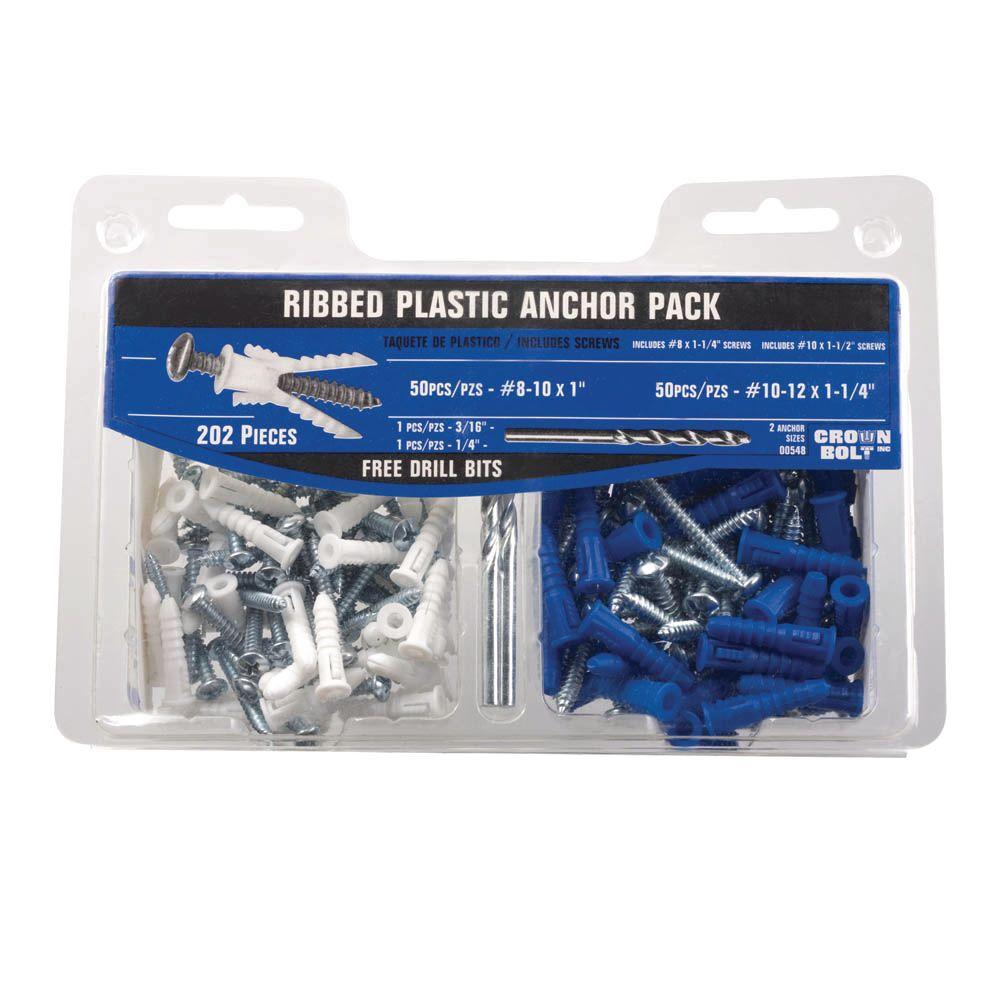 TRICK #3: NO-DRILL HACK
The reason I love these is because they work perfect for my little no-drill hack.
Once you're holes are marked:
take a larger sized nail and make a hole in the sheet rock.
twist the nail to give a larger opening
gently take a medium size screwdriver and poke through sheet rock
tap in anchor with a hammer
put your bracket on and put in both screws
Use a screwdriver to install 2 screws for all of the brackets. I personally prefer a hand-held screwdriver just so that I do not strip the screws, but you can use an electric screwdriver also.
---
STEP #6: PUT ON CURTAIN ROD HOLDERS
I have installed a ton of curtains over the years (I used to sew/install curtains – many years ago), and I have to say that these IKEA BETYDLIG brackets are the bomb!
They come with a bracket cover to hide the screws, that you can snap off for the long and short sizes
They have this little rubber insert (thin or thick depending on rod dimension) that you can attach to the rod brackets to keep the rods from sliding around.
Plus it adds a little height which helps with curtains that are all different lengths!!
This design also allows for you to slide the bracket up if you do decide to hang longer curtains at some point – which is genius!!
Here's the kit that it comes with – one bracket cover that can be adjusted, and then the 2 adhesive rubber non-slip grippers.
Cover slides right on.
And here's the thicker gripper.
---
STEP #7: PUT ON CURTAINS, RINGS, & FINIALS
So now you can put the curtain rings onto the rods to hang the curtains.
I decided to make this it's own step because there are a couple of ways to use these curtain rings (+ my hanging curtain hack).
The great thing about these IKEA SYRLIG rings is that they give you 2 hanging options…. AND they are only $4.99/pack of 10!!
Now, they are made out of plastic. But that was fine for me because they are super light, and don't weigh down my smaller diameter curtain rod.
Ways to Use Rings:
the clip option and hang them directly to the top of the curtain (above #5 – curtain styles)
with the hook option and connect with the RIKTIG pins (above #6 – curtain styles)
OR my hack with the hook option and gathering the back tabs (picture below)
So in the picture above, you can tell how the curtain hangs closer to the rod than the one using the rings with clips version.
This is just another alternative way to make pinch pleats, if you don't have any RIKTIG pins ready available.
TRICK #4: For MY Hack
Make pinch pleats by gathering 2 back tabs and sliding onto hooks.
You will only need 5 rings for this look.
Put on your finials to complete your look.
I chose these finials because I wanted a "cleaner" look, and also because I needed something that would fit that "tight" corner area.
YOU ARE DONE – WOOHOO!!!
Wide view.
Corner View.
Side View.
Puddling View.
Light Filtering View.
Boomer Loves Them Too!!
Have a Great Weekend & Happy Fourth of July!!
Love & Hugs 🙂
Recommended Posts:
How To Paint Built In Cabinets Black (With White Back)
10 Best Neutral Rugs + Our New Rug Reveal
15 Best Black Chandeliers & Light Pendants
10 Best White Coffee Coastal Chic Coffee Tables
12 Simple Coffee Table Styling Tips
Adding Black Removable Wallpaper to Bookcase
DIY Bookshelf Makeover: $2 Wrapping Paper
15 Best Blue and White Curtains
3 Key Elements: Coastal Cottage Living Room
DIY Ceramic White Lamp Makeover: Painted White
14 Ways to Decorate With Blue: For Every Room & Budget
12 Best Navy & White Area Rugs: Under $200
Opening Up Kitchen Wall To Living Room
Adding a Shiplap Feature Wall To Living Room