I know it feels like we just started our summer break, but it's never too early to begin back-to-school planning. Every year I think it's all taken care of, and then there's always that ONE little thing (like the not-so-important backback – haha!!) that we wait to buy until the last minute!! So, let's take care of the most important item – the student study desk – first and get that one removed from the list. Top 10 Best Desks for Students (Under $150).
Whether you're looking for: small desks, desks with shelves, desks with drawers, corner desks, l-shaped desks, fold-up desks, desks with printer storage or keyboard trays – there is a desk on the list for you.
***NOTE*** Working on updating these: January 2021. Please know that some of the prices have changed with everything going on, and I am searching for the best prices for you! Thanks for your understanding 🙂
***NOTE*** This post contains affiliate links which means that I will receive a small compensation if you purchase something from these links. Please see my disclosure and privacy policies below for more information. Thanks for your support! 🙂
---
TOP 10 BEST DESKS FOR STUDENTS (UNDER $150)
I'm gonna keep this post short and sweet this time!! Woohoo – about time right?? But of course I have to remind you of a couple of things just to make the shopping process easier.
TIPS & REMINDERS:
MEASURE: Measure the length, width, and height of the desk – twice. And don't forget to check how far a drawer/door will come out when open. You don't want your perfect small desk to block walkways or bump into bedroom furniture (like dressers or beds) when you're using it.
FUNCTION: What will you be doing on your desk- homework, writing, computer work, reading, crafts, gaming etc? You want to make sure your desk is wide enough (on top) for a computer and possibly a binder or notebook for homework. And would you benefit from a keyboard tray?
STORAGE: Will you need top storage (like a hutch), or storage underneath (like shelves or cubbies)? Will you need a file drawer to keep documents stored or possibly a small drawer for school/work supplies like pencils, pens, scissors, etc? Will you need a printer shelf?
PLACEMENT: Where will you put your desk? Make sure to look around the room and find the perfect spot for your new desk – before you buy it!! Don't purchase it first, and then find a spot that will work afterwards. Knowing where you want to place your desk will help save so much time when searching.
---
TOP 10 BEST DESKS FOR STUDENTS (UNDER $150)
Whether you're looking for your kid's first desk, one for your teenager's new "big-kid" bedroom, a college student's first dorm room desk, your husband's gaming desk, or maybe even a work-space area for yourself (LOL!!) ….. price is always a factor.
So, I have rounded up my favorite desks that provide the best bang for the money. You shouldn't have to compromise style or function for money – right?
***FYI*** The last desk listed – is the one my daughter chose!! Scroll down to the very end for pictures.
Let's get to it!
---
TOP 10 BEST DESKS FOR STUDENTS (UNDER $150)
10 BEST DESK STYLES:
Bottom Storage – Open Shelves
With Top Drawers
Top Storage – Hutch
With Keyboard Tray
Bottom Storage – Closed
Corner Desk
L-Shaped Desk
Fold Out Desk (wall-mounted hidden desk)
Mid-Century Mod Desk
With Drawers & Shelves – My Daughter's
---
TOP 10 BEST DESKS FOR STUDENTS (UNDER $150)
NO. 1 DESK WITH OPEN SHELVES
This farmhouse style desk brings in a streamlined look where function is the main priority.
It has a large, flat work space on top to hold all computer accessories, and 2 lower shelves with black metal framing to support baskets or books.
OPTION 1 desk or here: white oak, walnut
PRICE for OPTION 1: $199.99
OPTION 2 desk or here: 2 colors (black, vintage oak)
PRICE for OPTION 2: $95.99
---
NO. 2 DESK WITH TOP DRAWERS
This fun desk comes with a top drawer, and endless functions. Use it as writing desk, craft desk, homework desk, and even a vanity.
You could also use it in the laundry room to fold clothes on, and keep laundry baskets stored underneath. Customize it with fun knobs, add a fur desk chair, or even a vanity stool.
This desk: White
PRICE: $92.99
Option 2 desk: Light Pine
PRICE for OPTION 2: $83.99
OPTION 3 desk: Oak White
PRICE for OPTION 3: $127.22
OPTION 4 desk: White
PRICE for OPTION 4: $133.09
---
NO. 3 DESK WITH HUTCH
If you are looking for a study desk that can grow with your child, this one fits the bill. It has a little bit of every thing, giving it the most function.
It has a keyboard tray, small top hutch, small drawer, and lower shelf storage.
PRICE: $99.99
Option 2 desk:
PRICE: $97.00
OPTION 3 small hutch: white, black, brown
PRICE for OPTION 3 hutch: $22.99
---
NO. 4 DESK WITH KEYBOARD TRAY
If you are looking for a more compact desk that has a little bit of everything, this is a great choice. It has a keyboard tray, cubby for binders/books, and even room for a printer on the top shelf.
This would be great for a work from home office space, dorm room, or a small nook in your living room.
This desk or here is available in: 5 colors
PRICE : $51.09
OPTION 2 desk: black, maple
PRICE for OPTION 2 desk: $62.54 – $124.15
OPTION 3 desk: white, black
PRICE for OPTION 3 desk: $89.90
OPTION 4 desk:
PRICE for OPTION 4: $109.99
---
NO. 5 DESK WITH CLOSED STORAGE
This desk is perfect for those who want a stylish desk without losing function. The beautiful weathered wood grain "look" keeps it on trend, while the clean lines and closed storage keeps it looking tidy.
The top portion is wide enough for a laptop, school supplies, binders and more.
This (5-drawer) desk: light oak
PRICE for OPTION 2 desk: $128.99
OPTION 2 (4-drawer) desk: light oak & black
PRICE: $114.99
OPTION 3 desk: White (here or here), (Black here)
PRICE: $111.97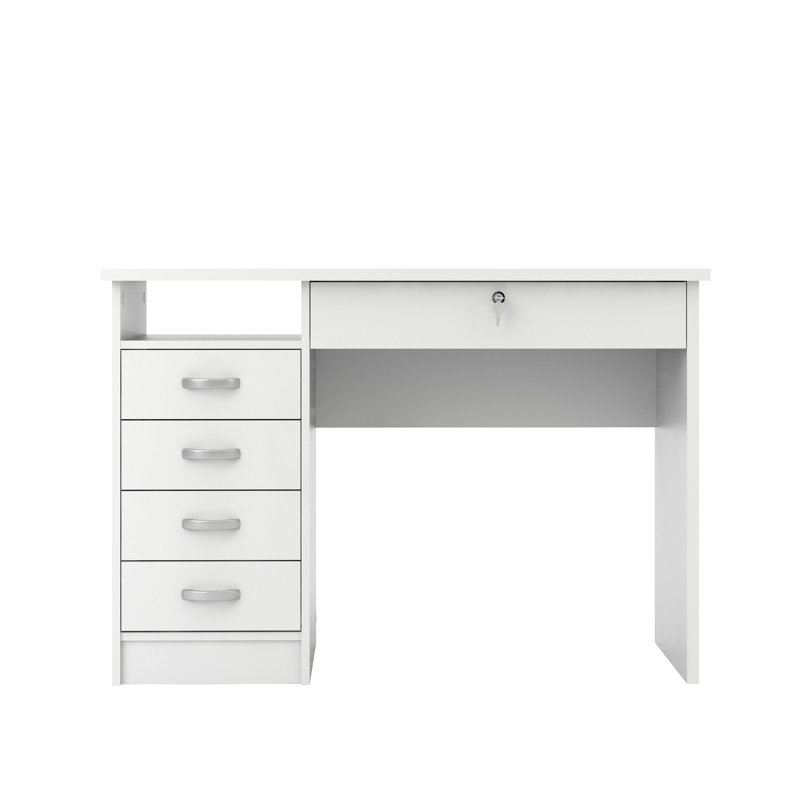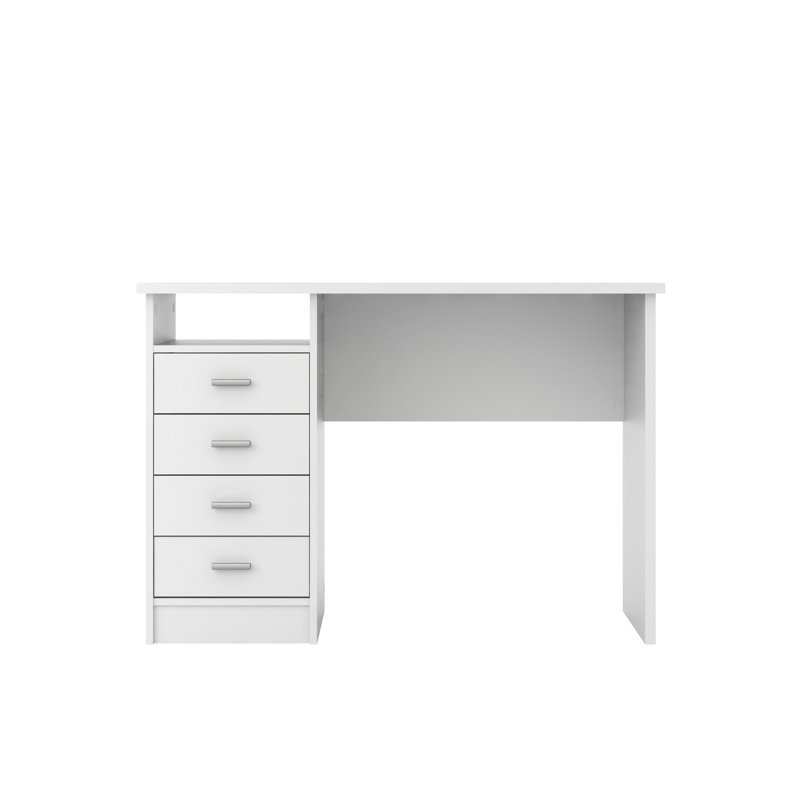 ---
NO. 6 CORNER DESK
This adorable corner desk comes in handy for areas with small spaces. Sometimes you need a dedicated work space without taking up wall space or a walk way.
Use it with the drawer option to keep office supplies organized, and store notebooks or file folders on the lower shelves.
OPTION 1 desk: distressed cream, dark cherry, black, red, & vintage grey
PRICE for OPTION 1 desks: $83.99 – $157.99
OPTION 2 desk: white or here (black, cherry)
PRICE for OPTION 2 desk: $129.99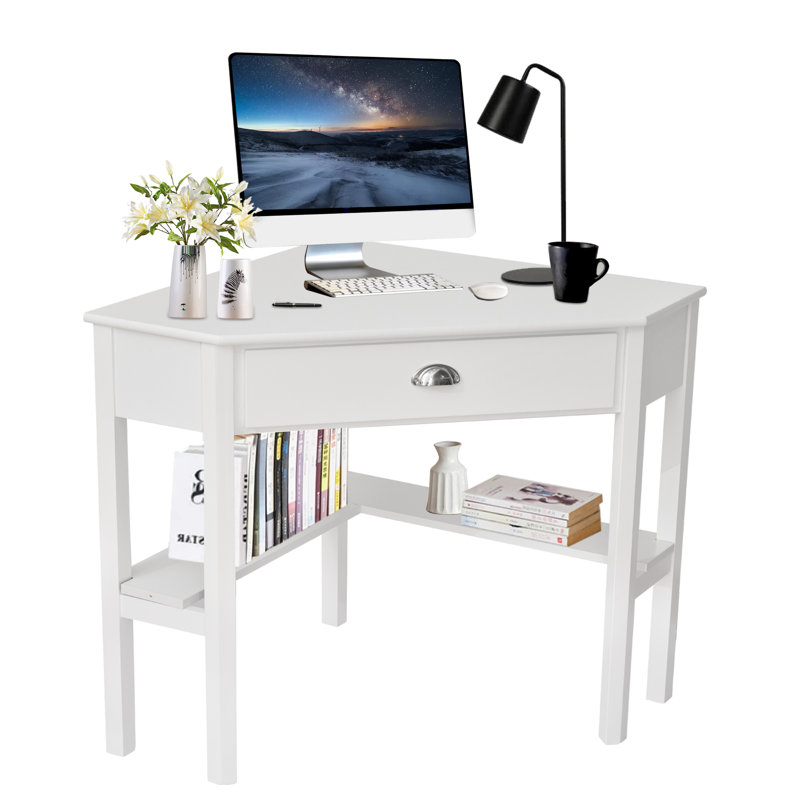 ---
NO. 7 L-SHAPED DESK
What a large work space you gain with this l-shaped computer desk. It has enough space to hold a laptop or computer on one side, and a printer on the other side.
Plus it has storage room underneath to hold binders, file folders, books, and more.
This desk: espresso, walnut
PRICE: $138.87
OPTION 2 desk: black, dark wood, light wood
PRICE for Option 2: $110.99
Option 3 desk: 5 colors availabe
PRICE for Option 3: $149.99
---
NO. 8 FOLD OUT DESK
I have to admit that I am loving this wall-mounted fold away (foldable) desk design!!
It's perfect for extremely tight spaces, for college students, laundry rooms etc. Use it as a dining table too.
This desk: white, black or here (white, black, mahogany)
PRICE for OPTION 1: $139.99
OPTION 2 w/chalboard: white
PRICE for OPTION 2: $109.99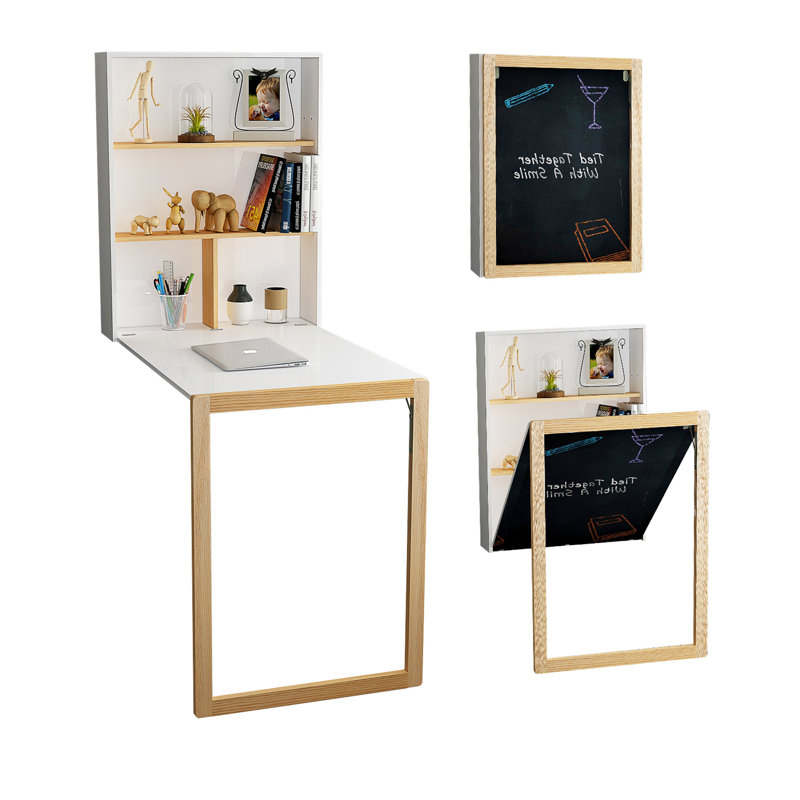 ---
NO. 9 MODERN/BOHO STYLE DESK
Of course I had to include some minimalist and modern styles to the mix – just to keep this post from getting too serious.
Both of these desks are so cute, and add some FUN to FUNction!!
Option 1 desk
PRICE : $149.99
Option 2 desk: white, black, grey, and royal blue
PRICE : $139.99
Option 3 desk: black
PRICE : $59.87
Option 3 desk: black, teak, walnut, maple (more available)
PRICE : $119.99
---
NO. 10 DESK WITH DRAWERS & SHELVES
This one is in my daughter's room – best Ikea Desk!
If you like a style where you can't see the clutter, this is the desk for you. It comes with two top drawers, and three adjustable shelves.
It also comes with a hutch only option which is a nice feature (might come in handy for a college dorm room or student's first apartment – down the road).
This desk is available in 2 colors: white and black-brown and is available with a hutch (included) option.
PRICE DESK ONLY: $79.oo
PRICE HUTCH ONLY: $40.00
PRICE WITH HUTCH INCLUDED: $119.00
IN OUR HOUSE:
And here it is in my daughter's room! Sorry the pictures aren't better – we still haven't gotten new carpet yet. 🙁 I just wanted to show you what it looks like, and let you know how much we love it!!
She actually picked it out herself – so that speaks volumes!! Teenagers- right??
I love how everything (the drawers and shelves) are covered by the door/drawer fronts. It just keeps things looking a little tidier – when it's really NOT!!
Plus, it has that (circle) cut out to help hide cable plugs. She can also charge her phone on here too.
Hope you found one that you, your teenager, or your student can agree on!! So, which one is your favorite? Shoot me a comment- I'd love to hear some feedback.
Looking for more Back to School Inspiration? Try my new post Back to School Party for Teachers (or Kids). Find easy DIY decorations and tutorials to get your kiddo excited about the new year!
Have an Awesome Summer &
Welcome Back to School 2020-2021!
Love & Hugs 🙂
Want to see more of our home? Try Spring Home Tour 2019, Summer Dining Room, Adding a Shiplap Feature Wall to Living Room, Home Tour: Coastal Farmhouse Master Bedroom, Master Bathroom Remodel.
Want more Seasonal Decorating Tips: Try 14 Easy Ways Patriotic & Memorial Day Decorating Ideas, 9 Affordable Ways to Update Your Outdoor Living Space, 10 Ways to Add Color To Your Entry, and 10 Ultimate Outdoor Summer Party Essentials.