So, we did our research for the perfect bar stools to complete our kitchen makeover …..and we found them!! They were just the right size to tuck under the new kitchen island overhang, and were upholstered with thick cushions to comfort our tushies while eating. And the faux leather is just what we needed to wipe off some of the "accidental" kiddo beverage and adult beverage – (cough cough) spills)!! LOL! They were just missing one little thing……a foot rest protector. So, I added some!! Who's ready to see the DIY Bar Stool Metal Foot Rest Tutorial (Hack)?
***NOTE*** This post contains affiliate links which means I will receive a small compensation if you purchase from these links. Please see my privacy and disclosure policies below. Thanks for your support 🙂
---
DIY BAR STOOL METAL FOOT REST TUTORIAL (HACK)
***DISCLAIMER*** This tutorial worked for our bar stools, but we do not take responsibility for the actions performed on your bar stools. Our bar stools are made from MDF wood (soft wood), so just double check your furniture specs. Okay just wanted to get that out there 🙂
---
DIY BAR STOOL METAL FOOT REST TUTORIAL (HACK)
So, before we get to the tutorial portion, let's go over the supplies that you will need for this project. Pictures of the items are shown at the end of the post if you need some visuals.
***The supply amounts are based on using 4 bar stools (just wanted to clarify).
***Note that you will be using a hack saw that could cause harm, so PLEASE be careful when using this item!! ***
SUPPLIES:
METAL NOSING – 1 PIECE NEEDED FOR MY 4 STOOLS

8 SCREWS (#6 x 1/2″, or #6 x 3/4″)

HAMMER

ONE LARGE NAIL

MARKER/PEN/PENCIL
---
DIY BAR STOOL METAL FOOT REST TUTORIAL (HACK)
THE PROBLEM: So, how did this all begin anyway?
Well before we flooded, we had these beautiful upholstered bar stools that worked perfectly with our bar height counter top (pictured below). T
hey were soft, very comfortable, and came with the metal foot plate (protector).
I knew that the metal plate saved the foot rest from scratches, shoe scuff marks, and wearing down of the wood .
Since it was a necessity for our old bar stools, I knew that our new bars stools would need the metal foot plate also.
Plus I liked that the nickel finish gave the farmhouse stools a little more modern feel.
THE SOLUTION: I knew it was time to find something DIY style!!
So I headed off to Home Depot, told a very friendly worker (a woman – of course!!!) what I needed, and she directed me to these.
They are carpet and floor, transition molding pieces. Go Home Depot Customer Service!!
So, I dug around until I found what I wanted. FINISH NOSING – SILVER!! Perfect! And the love story begins……LOL!!
I just wanted to show you how long the piece is (72'L x 3/4″), and that it has the holes on the top and the side edges.
The holes are a must-have, so we can attach the nosing to the wood 😉
Yes, these pictures are taken at Home Depot. Somehow…..I can't find my original pictures for this project -ugh!!
Oh well – hopefully these still work!!
---
***THE TUTORIAL***
5 STEPS:
Measure the length of foot rest needed

Mark where to cut

Cut the finish nosing with the hacksaw

Tap nails to mark foot rest

Attach screws to finish nosing
---
STEP 1: MEASURE
Measure your wooden foot rest from side to side (width). Make sure it is the foot rest you will be using (front versus the side). My bar stools have 4 foot rests, but I only attached the metal foot plate to the front side.
***TIP*** If you want to do more, then make sure you buy extra nosing pieces.
Picture on Left: You can see that the width of mine is 14 1/2″ long. The metal piece will go on the top and front portion, but I couldn't get a picture with the tape measure – just a fyi.
Picture on Right: The height (front part) of mine is a little over 1 inch. That is why the 72″L x 3/4″ nosing works (because it is shorter than the 1+ inch height. Does that make sense?
***TIP*** The measurement is important because this is how I knew that my 72″L nosing would make 4 foot rests:
14.5 inches x 4 bar stools = 58 inches.
---
STEP 2: MARK AREAS
Now, this is a little tricky…..so I'll explain it first. This particular finish nosing piece has holes on top and front portions (that is how it is made).
So, basically your foot rest will have 2 holes on the top (to attach screws) and ONE hole in the front (LEFT ALONE).
Here are some large pictures so you can really see how this will look up close.
You will mark your nosing piece at 14 3/8″ with your black marker or pen. The marked nosing piece should have 2 holes on top, and one in the front.
Double Check.
FYI: 3/8 is between 1/4 and 1/2)….. (Just so that it is a little less than the orginal 14 1/2 " measurement).
***TIP***Make sure the MIDDLE hole is in the CENTER of your marking….you will have to cut off excess nosing to make this look centered. Trust me……double check this each time.
***MOST IMPORTANT PART***
After you mark the 1st piece at 14 3/8″ using the TOP 2 holes as reference, you will now use the THE FRONT 2 holes as reference for the 2nd piece.
In other words, you will have to FLIP from using the top portion AND the front portion to make FOUR foot rests with 2 holes on top.
Otherwise, you will end up needing 2 finish nosing pieces.
Just play around for a couple of minutes, and it will make sense.
---
STEP 3: CUT WITH HACKSAW
After you mark your nosing, it is time to cut each of the pieces. Again, please be careful with the hacksaw.
You can use the miter box shown to help keep the nosing straight and to protect your cutting surface. Or you can always use saw horses or a work table to cut.
***TIP*** Cut just inside your marked area if using a marker (just so you don't have to try to clean marker/pen mark after cutting). These cut metal pieces are SHARP – PLEASE BE CAREFUL!! 🙂
Pictures below: Sorry again that I lost my original photos, but here is a recreation using some leftover pieces to give you an idea.
You would have your LONG full piece in the miter box.
In the picture below, I wanted to show that I cut my piece just inside the "marked" area.
Cut all 4 pieces with 2 holes on top, one in middle front. (You will have leftover pieces if done correctly).
---
STEP 4: TAP NAIL HOLES
Next, line up your piece on the TOP portion of the foot rest and center it. While holding your piece down, use a pencil to mark where the 2 screws will go on top.
I did not use a drill for this because the screws are so short. I used a medium sized nail and tapped a small hole with a hammer.
You can take off the metal nosing while tapping the nail to make it easier.
***TIP*** Do not tap with too much POWER, or you will knock your foot rest off of the legs!!! Gently tap the hammer enough to make a small hole with the top portion (mouth) a little wider.
I always kind of tap my nail at different angles to make the hole a little wider.
***NOTE*** I did break a couple of screws off, while trying this out. So, make sure you make a wide enough hole to allow the screw threads to grab onto the wood.
---
STEP 5: ATTACH SCREWS
Attach 2 screws to top portions of each foot rest. Go slow and do not force screw in.
If the screw begins to feel like it is going to snap…….go back with your nail and make the hole a little deeper. Otherwise, you'll have some broken screws like mine – ugh!!
Live and Learn – right??
I did not add the middle screw to the front portion because the 2 top screws held enough support. So, that is up to you.
I love how the foot rests turned out!! We have been using the stools now for about 8 months, and they are still working out great!!
YOU ARE DONE – YOU DID IT!! WOOHOO!!
Let me know if you have any questions, and shoot me a picture if you try it out!! I'd love to see your foot rests!
If you are a visual person, pictures of the supplies needed are down below. Thanks for checking out my DIY project!
HAVE A GREAT WEEK!!
LOVE & HUGS 🙂
More Posts:
11 Kitchen Upgrades: Our Review (After 2 Years)
Opening up Kitchen Wall To Living Room
15 Ways To Customized a Builder's Grade Kitchen
How to Plan Your Kitchen Remodel: Tips & Ideas
12 Kitchen Upgrades (You Can't Live Without)
Get House Organized: Top Ten List
12 Best Modern Farmhouse Bar Stools
---
SUPPLIES
1 – BAR STOOLS 2 – METAL NOSING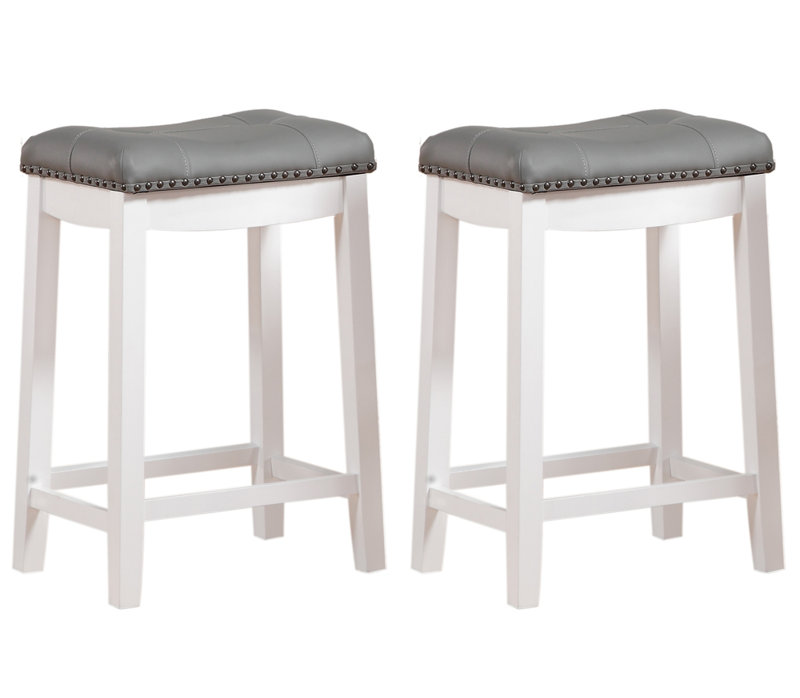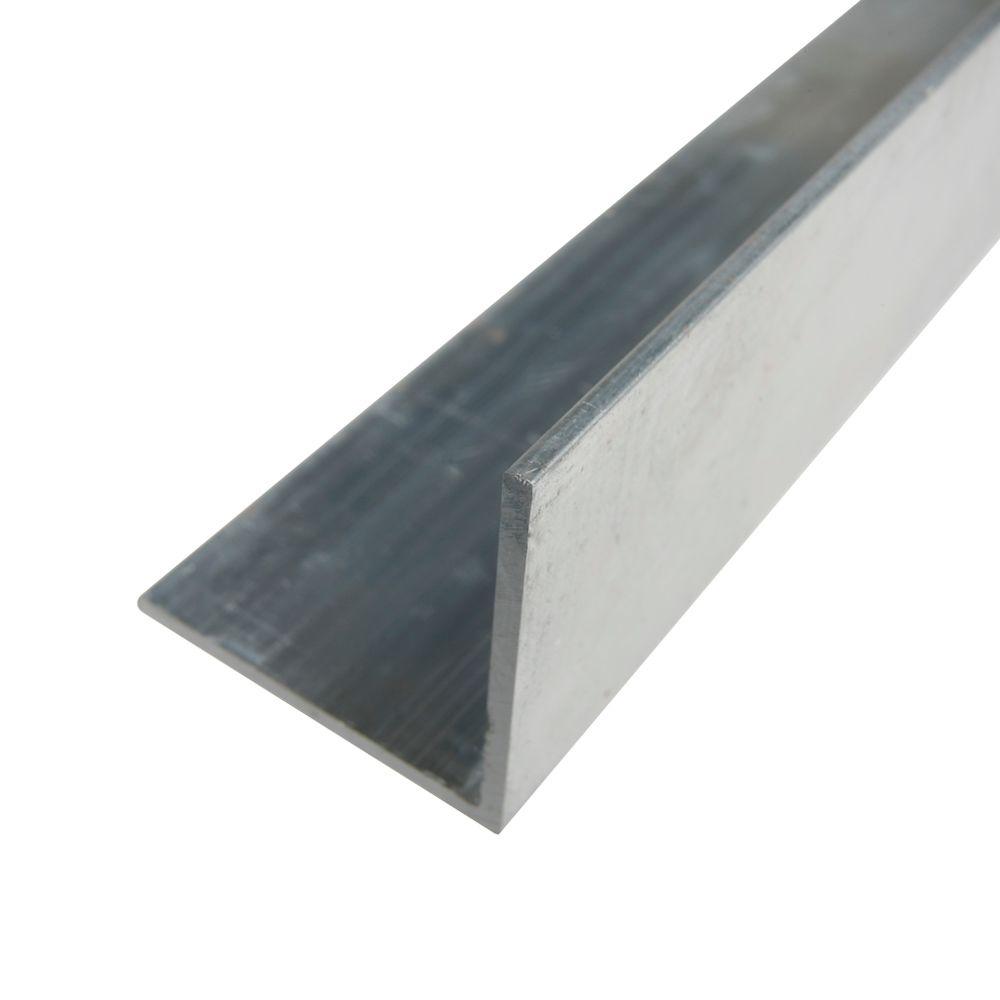 3 – HACK SAW, OPTION 2 4 – MITER BOX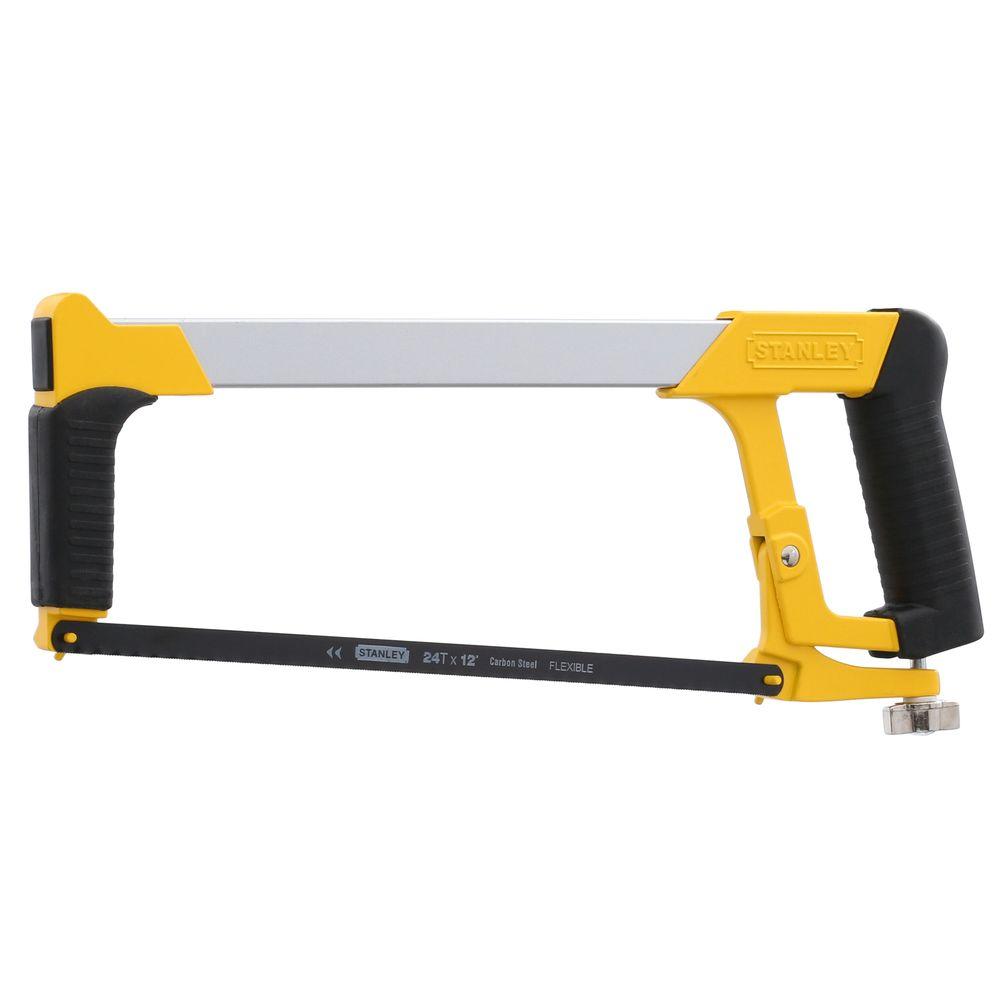 5 – TAPE MEASURE 6 – SCREWDRIVER, CORDLESS
7 – 8 SCREWS